Ishfaq Majeed Wani can never be forgotten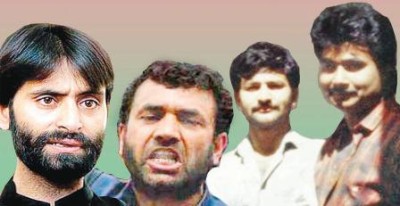 Bilal Bashir Bhat
Srinagar, Mar 30 (Only Kashmir): From the times of Ashfaq Majeed Wani to Burhan Muzzafar Wani, tens of hundred militants lost their precious lives to the Kashmir conflict and the process is still going on. Undoubtedly, there is much support to the militants in Kashmir from the local populace under which nowadays we see people obstructing the military operations to help militants to escape from encounter site. The seeds sown by both Wanis for better political future are pushing victimized Kashmiri youth towards slaughter houses and this will continue till the resolution of lingering issues is not addressed as per the wishes and aspirations of the people of Kashmir.
It is said that time heals everything but here the story is different because the wounds of death of one of the founding members of Kashmir's armed struggle Ishfaq Majeed Wani are still fresh in the hearts of his companions like Muhammad Yasin Malik, Javaid Ahmad Mir and others who fell to the bullets of government forces on this day i.e. in 1990.