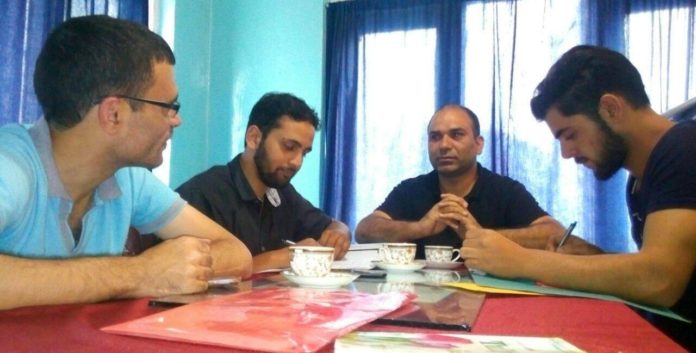 Srinagar, Aug 24 (Only Kashmir): While expressing grave concern over the situation that has arisen out of Article 35-A controversy, Jammu & Kashmir Young Journalists Association (JKYJA) in a statement said political parties should conduct an instant Assembly session in order to pass a resolution to safeguard Article 35-A.
According to the JKYJA spokesman members of association during a meeting today expressed great concern over how the 35-A controversy and said it was dividing the people and the communities of the state of J&K.
JKYJA President Ajaz Ahmad War said, "This is a sad and serious situation and the BJP needs to understand the sensitive politics of the state and shouldn't play such mischievous tricks to get political mileage. Such tactics have disastrous far-reaching fallouts and can plunge the state into a further bloody chaos."
Besides other the meeting was attended by Rameez Makhdoomi, Bilal Bashir Bhat, Umar Alam, Wajahat Sheikh, Noor Salam.
Appealing the regional political parties, PDP and NC, JKYJA members said if the two parties are serious to bring the state out of this crisis, they should conduct an instant Assembly session in order to pass a resolution to safeguard Article 35 A.
"NC and PDP should stop trying to play politics and make a serious effort to counter this nefarious RSS design. They should conduct an Assembly session and pass the resolution as soon as possible. Otherwise it will remain sub-judice and the people of the state will have a Damocles sword hanging on their head."