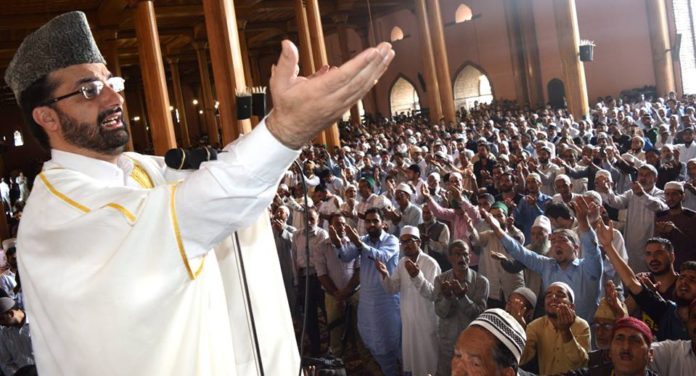 Bilal Bashir Bhat
Srinagar, Aug 25 (Only Kashmir): Emotional scenes were witnessed inside Kashmir's grand mosque on Friday during a special repentance session led by Kashmir chief cleric and Hurriyat (M) Chairman Mirwaiz Umar Farooq in the back drop of the lynching of a police officer outside the mosque two months back.
According to the statement issued here, Mirwaiz led special Touba-e-Istegafar prayers for seeking forgiveness from the Almighty Allah in the back drop of countless issues being confronted by the people of Kashmir and also the tragic incident of the lynching of a police officer Muhammad Ayoub Pandth on the night of Shab-e-Qadr outside Jamia Masjid.
Pertinently, a political controversy erupted after Mohammed Ayub Pandith, 57, a deputy superintendent working in the security wing of state police on 22nd and 23th intervening night of June was lynched to death by a mob outside Jamia Masjid when thousands of devotees were present in Mosque in context with Shab-i-Qadar.
Soon after the incident, no congregation prayers were allowed for long six weeks in Jamia Masjid Srinagar. For the first time in the living history, the government imposed restrictions to disallow the Juma-tul-Vida prayers (the last day of Ramadan).
Today it was only second time Mirwaiz was allowed to deliver the sermon at Jamia Masjid since the lynching incident occurred. Pertinent to mention here Mirwaiz had condemned the incident.
Police have already arrested several youths during the case investigation. The police earlier in a statement claimed that a slain militant of the area Sajad Gilkar was the main accused of the lynching incident.
The political pandits termed the incident as the outcome of mounting tensions in the valley that has seen violent clashes between police and civilians following several incidents of alleged human rights violations, including tying a Kashmiri man to an army jeep.