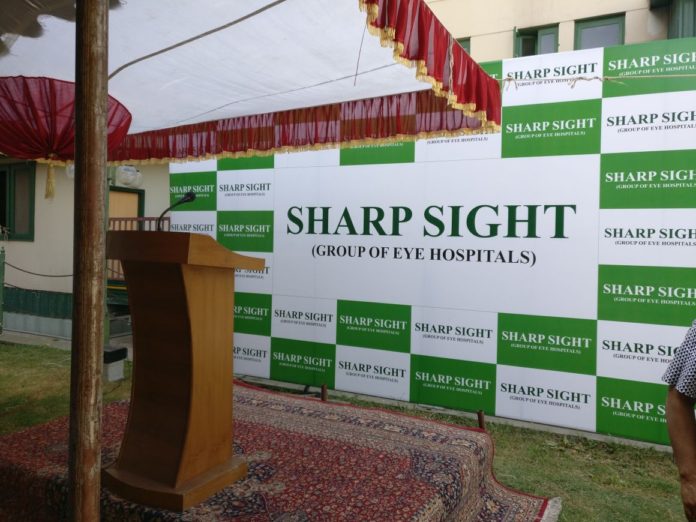 Srinagar, Aug 29 (Only Kashmir): Asserting that the pellet victims who can't afford the treatment cost would be "provided free of cost treatment" Sharp Sight (SS) hospital, a New Delhi-based group of eye care hospitals, on Monday inaugurated its Srinagar center here, to provide "world-class treatment facilities" to people with vision impairment in Kashmir.
At the launching ceremony here, the hospital authorities demonstrated the high-end equipment and facilities set up by them at the center, in the lawns of Florence Hospital here, and said that the advanced technologies for eye-care was the "need of the hour".
"We wanted to come with a good infrastructure, high end technology and matchless expertise. We have got all three here today," Dr Samir Sud, director Sharp Sight said.

He said that 25 people from Kashmir had been trained for one month at New Delhi to work at their Srinagar center. "We will have three doctors from Delhi permanently stationed in Srinagar center. And senior eye surgeons from will fly down from Delhi twice every week for conducting surgeries," he said.
Dr Sud said that the hospital had "the best in the field technologies for treatment of diabetic eyesight loss" which he said was common in Kashmir due to high prevalence of diabetes. "In addition to improving treatment facilities in Kashmir, there also was a need to create awareness about preventable causes of blindness".
To a question about the pellet victims and their treatment Dr Sud said: "We have been in ophthalmology for the past 20 years. We see lot of cases like accident injuries, road accident but we haven't seen pellet injuries anywhere. Eye is a very delicate structure and if pellet goes into eye it is very difficult to get the vision restored. We try to maintain eye structure but it is very difficult to get vision back in such case and those who get it are very lucky," said Dr Sud, hoping that such injuries stop in Kashmir.
He asserted that the pellet victims who can't afford the treatment cost would be "provided free of cost treatment".
Dr Kamal B Kapur, who is also director Sharp Sight, said that the SS hospital would be providing complete care for eye patients. "We will be treating all kinds of eye problems here with sophisticated equipments by our experts," Dr Kapoor said.
He said the prevalence of the diabetes was very high in Kashmir and it can lead to blindness. He said there was also lazy eye disease quite common among children owing to lack of awareness.

"When a patient comes to know about the eye diseases it is often too late. There is need to create awareness among people," Dr Kapoor said.
Dr Imran Muzaffar, owner of Florence Hospital said that the motivation for inviting SS hospital to open up a center in Srinagar came after seeing a number of patients with eye-related issues presenting at the hospital and requiring advanced treatments.
"We used to refer these patients to different hospitals but their treatment was not satisfactory," Dr Muzaffar said adding that is when they decided to invite the SS hospital for "best and affordable treatment right in Kashmir".
Sharp Sight is a group of eye hospitals with seven centers in Delhi and four internationally, in Nigeria, Mongolia, Tajikistan and Myanmar.
"The hospital will provide comprehensive eye care solution for all eye related diseases and super specialty clinics for Retina and Glaucoma," a statement issued by the hospital said, adding they were also introducing, for the first time in Kashmir, Zepto Pulse Technology, the latest in Robotic Precision Cataract Surgery.