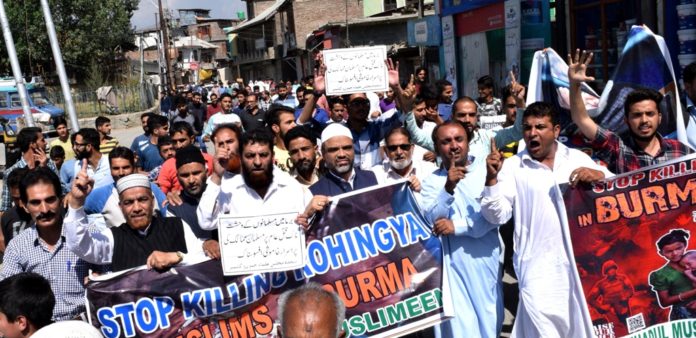 Srinagar, Sep 8 (Only Kashmir): The length and breadth of Kashmir Valley even in Chenab Valley of Jammu region on Friday rocked with pro-Rohingya protests and rallies to denounce Buddhist terrorism in Myanmar against innocent Muslims.
In Kashmir capital Srinagar, pro-Rohingya protests were held at Maisuma, Abiguzar, Sariabala, Hyderpora, Natipora, Chanapora, Nowhatta, Safakadal, Soura and other parts. The protesters castigated international community for maintaining criminal silence over the grave issue. They alleged that Fascist forces across globe have been seeking pleasure over the killing of innocent Muslims at the hands of fanatic Buddhists and Mayanmar Army.

At Press Enclave Srinagar, a Shia organization 'Majmai Islam Kashmir' staged a peaceful protest against the torture and killings of Muslims in Burma. The protest was led by Aga Syed Aleem Jan and Aga Syed Gulzar.
The protesters alleged that rights of Rohingya Muslims are being gravely violated with the directions of the Burmese government led by a so-called Nobel Peace Prize recipient Aung San Sui Kyi.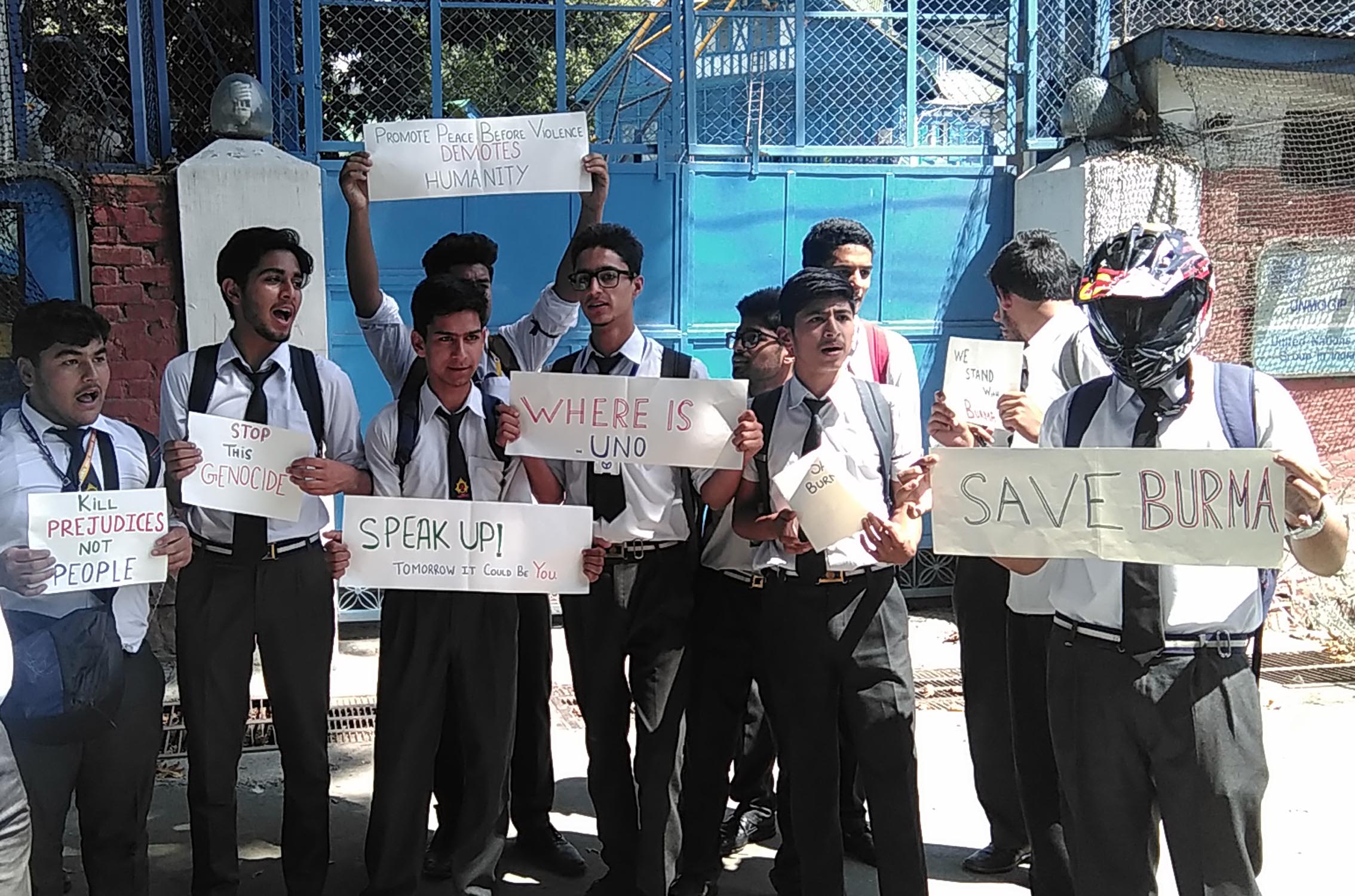 Scores of Kashmir University students on Friday held a massive protest demonstration in the varsity campus to protest against the persecution of Rohingya Muslims in Myanmar.
The protest demonstration culminated with the students demanding an immediate end to the oppression and violence meted out to the Rohingya Muslims in Myanmar.
Protesters in South Kashmir's Anantnag district set ablaze a Police Rakshak and thrashed some cops including an officer.
Witnesses said that a peaceful protest rally was carried out by people against the killings of Rohingya Muslims in Burma from Jamia Masjid Sherbagh in Anantnag district.
Amid pro-freedom and anti-Myanmar slogans the protesters marched towards Lal Chowk. The protesters were agitated when they were intercepted by a police party and they hurled stones on them.
"As police started charged the protesters with canes, some of the protesters lost cool and they thrashed some of the cops including an Assistant Sub-Inspector who is posted at Khanabag Police Choki.

A Police official said that some of the protesters attacked a Police Rakshak and set it on fire outside DC office Anantnag.
Clashes also erupted in South Kashmir's Pulwama district after Friday congregational prayers. A large number of people carried out a protest rally against the killings of Rohingya Muslims from Jamia Masjid Pulwama. The protesters were stopped by police while the agitated youth pelted stones on them, ensuing clashes. Police used tear-smoke shells to disperse them. The clashes disrupted normal life in the town while shopkeepers lowered their shutters.
Protest against persecution of Burmese Muslims were also reported from Budgam, Tral, Pakharpora and other parts of Valley.