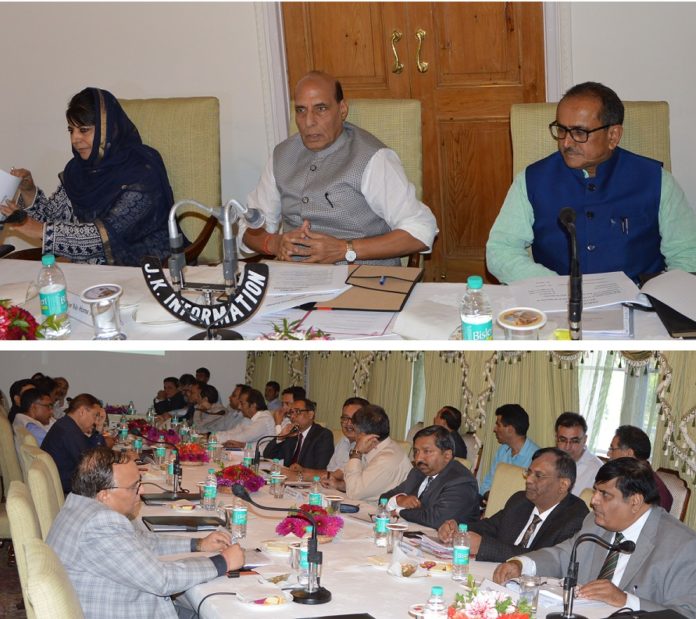 Srinagar, Sep 9 (Only Kashmir): Union Home Minister, Rajnath Singh arrived here today on a four day visit to the State.
Soon after his arrival here, the Union Home Minister had a one-on-one meeting with the Chief Minister, Mehbooba Mufti.
During the meeting, the two leaders discussed the overall situation, implementation of the Agenda of Alliance (AoA) and execution of Prime Minister's Development Package in the State.
The Chief Minister impressed upon the need to reach out to all sections of the society in the State which has been duly recognized in the AoA. She said the needs and problems of the people of the State have been recognized in the AoA and its implementation needs to be fast paced.

The two leaders recognized the need for timely implementation of the AoA which provides a definite roadmap to resolve the problems confronting the State.
Mehbooba Mufti also requested for regular and timely release of funds for various projects under the Prime Minister's Development Package.
Later, Rajnath took a review of the implementation of Prime Minister's Development Package (PMDP), alongwith Chief Minister, Mehbooba Mufti, at a high level meeting of officers here today.
During the meeting, Rajnath took a detailed review of the projects taken up under Rs 80000 crore PMDP in the State.
Rajnath Singh, Union Home Minister and Governor N.N. Vohra held extensive discussions on several important issues relating to the challenges being faced in the State, when they met at the Raj Bhavan here today evening.



The delegations which met the Union Home Minister included, Travel Agents Association of Kashmir (TAAK), TASK Travel Agents, Adventure Tour Operators Association, LoC Traders Association, Kashmir Hotels and Restaurants Association, Pahalgam Hotel Owners Association, Kashmir Hoteliers Club, Kashmir Shikara Owners Association, House Boat Owners Association, Travel Agents Association of India, Kashmir Tour Operators, Indian Association of Tour Operators, Youth Delegation, Kashmir Pandit Sangrash Smiti (KPSS), Shri Gurdawara Parbhandak Committee Srinagar, Fruit Growers & Dealers Association, JK Shia Association, All Gujjar & Bakerwal Conference, Pahari association, Shri Gurdwara Parbandak Committee Budgam, Self Employed Women Association and Shilp Group State Award Union and others.

The Indian Home Minister is expected to meet cross sections of society, however, it is not clear whether any separatist leader will call on him or not. Joint Resistance Leadership is behind the bars while they have called for a shutdown on Sunday against his visit.