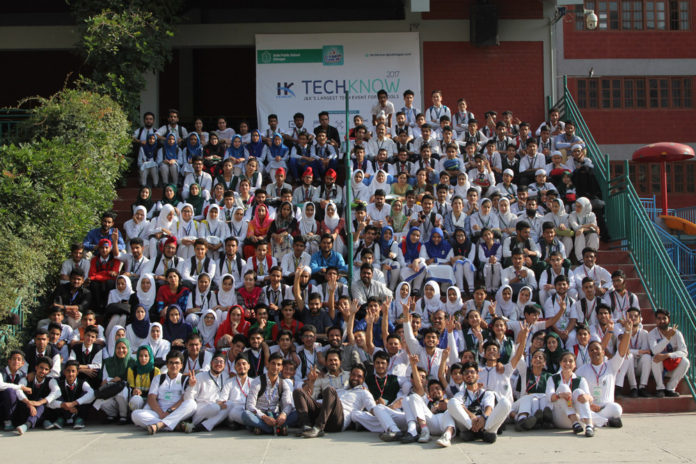 Srinagar, Sep 13 (Only Kashmir): The two-day IT event TechKnow conducted from 11th-12th September 2017 by Cyber Crew the students' IT club of DPS Srinagar concluded here Yesterday. The annual event is the largest tech event for schools in Jammu and Kashmir. The event saw participation of over 430 students of varying ages (grade 6-12) from more than 30 leading schools of the valley.
The tech event aims at providing a clear view of the opportunities and challenges of an increasingly connected world to students. The hallmark of the event is that the training of students is entirely conducted by student-members of the club. Vice Principal Ms Shafaq Afshan welcomed the participants on the first day. The event kicked off with the screening of a 45-minute documentary on the future prospects of technology. During the day the participants were provided hands on training in five different areas of technology: Web Development, GFX & VFX, Quadcopter Development, Robotics and Hybrid App Development.

On the second day the students were first provided training in assemblage and working of the Quad-Copter. The web development workshop received an enthusiastic response as the participants learned concepts behind developing creative internet platforms like Sarahah, quite popular among teens. The event concluded with a quiz in which goodies were distributed among the participants. The event concluded with an inspring speech by the principal – Balasubramanium Murali who highlighted the importance of Technology. He also congratulated CyberCrew for organizing the event. The closing speech was provided by Muazzam Khursheed, member of CyberCrew, who thanked all the participants and the school staff for their unrelenting support.

Hon'ble Minister for Social Welfare, ARI & Trainings and Science & Technology, Sajad Gani Lone gave away certificates to the participating students. Felication ceremony was also attended by Farooq Ahmad Shah, Secretary School Education; Muneer Ul Islam, Director Information and Vijay Dhar, Chairman DPS Srinagar.