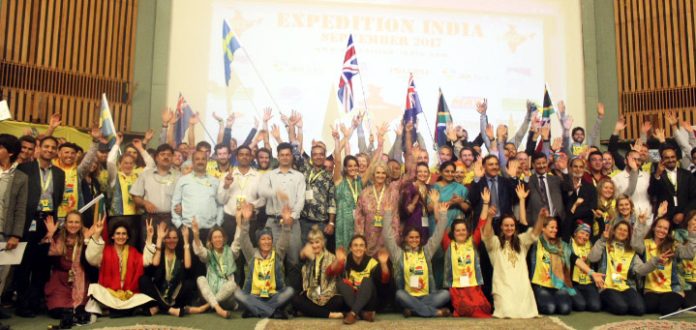 Srinagar, Sep 14 (Only Kashmir): Blessed with diverse culture and natural beauty Kashmir is hosting an international adventure race 'Expedition India-2017' being organized by Johannesburg based adventure company Kinetic Events in collaboration with Department of Tourism and J&K Bank.
Around 14 teams including 13 foreign teams and a local team are participating in the event.
Each team has been equipped with GPS system which is tracking their race. The GPS system attached to the athletes is also fed live on social media giving considerable publicity to the event across the globe.
The event is also covered by 25 foreign media persons on a daily basis who provide continuous coverage to the event.

On the first day today, the teams ran downhill from Shankaracharya temple to Nehru Park Ghat where they rowed the shikrara to SKICC.
In the evening, the teams moved to Sonamarg where they do hiking before moving to Leh. The race will culminate in Nobra valley in Leh on September 22.
Pertinently, there is a misconception among the travelers about Kashmir not being safe, however, hosting such an International event shows that the state of Jammu and Kashmir is safe for traveling and the tourists here are feeling safe.