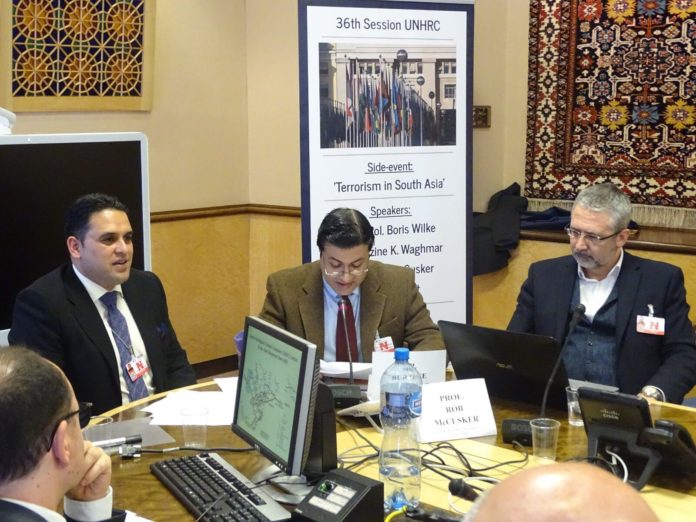 Geneva, Sep 22 (Only Kashmir): The European Foundation for South Asian Studies (EFSAS), an EU accredited leading independent, non-profit think tank and policy research institution based in Amsterdam, held a side-event during the 36th Session of the UN Human Rights Council in Geneva specifically focused on South-Asian region, Terrorism, Indo-Pak relations and the Jammu & Kashmir conflict.
The audience mainly consisted of scholars, academics, human right activists and politicians. The event was moderated by Junaid Qureshi, a Kashmiri writer from the Valley of Kashmir and the Director of EFSAS.

The event which explored the pertinent issue of Terrorism in South Asia was one of a kind, since none of the speakers were of a South Asian origin, and only consisted of scholars from reputed European Universities who deliberated upon Terrorism in South Asia from various perspectives based on their respective expertise in a bid to approach the challenges in South Asia from an academic viewpoint, with the aim to facilitate the understanding of the European audience of the complexities and sensitivities prevailing in South Asia.

The others who spoke on the occasion including:
• Dr. Paul Stott, from the University of Leicester, the Centre for International Studies and Diplomacy at SOAS London and an expert on Jihadism of South Asian origin in Britain and mainland Europe.
• Prof. Rob McCusker, Head of Division for Community and Criminal Justice at De Montfort University in Leicester. Previously worked with the Council of Europe, APEC, the Federal Bureau of Investigation (FBI) and the US State Department.
• Mr. Burzine Waghmar of the University of London's School of Oriental and African Studies, SOAS South Asia Institute and Centre for the Study of Pakistan.
• Prof. Boris Wilke, senior Researcher & Political Scientist at the Institute for Interdisciplinary Research on Conflict and Violence of the Bielefeld University in Germany.