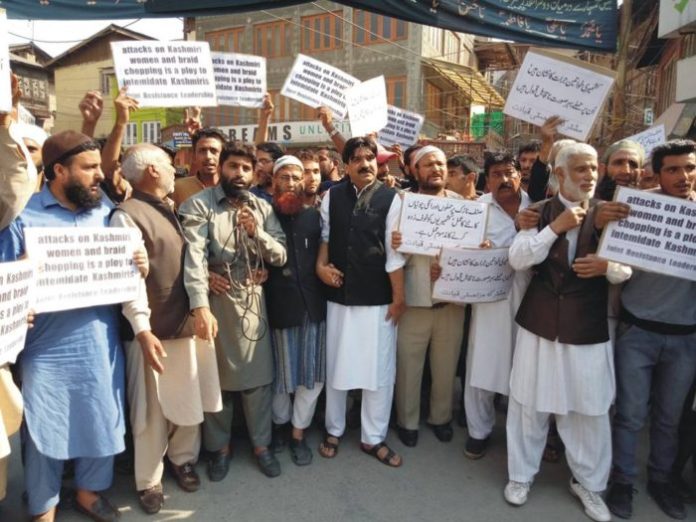 Srinagar, Oct 07 (Only Kashmir): Joint Resistance Leadership today on Friday staged a Protest Against mysterious Braid Chopping in Abi Guzar, Srinagar, the summer capital of Kashmir. The Protest rally was led by PPP Chief and APHC( M), senior leader, Engineer Hilal Ahmad War and Firdous Ahmad Shah, DPM, Chairman and Sr. leader, APHC ( G ) and Noor Mohammad Kalwal of JKLF including other activists of both factions of Hurriyat Conference.
The protestors strongly condemned the rising incidents of braid chopping in every nook and corner of Kashmir. The speakers on the occasion said that Braid Chopping is the handiwork of Government of India. They have condemned the mysterious incidents of braid chopping in strong words. They have strongly denounced the continuous house detention of, Mirwaiz Umar Farooq, Syed Ali Geelani, and arresting the JKLF chairman Muhammad Yasin Malik.
Meanwhile, on the call of JRL, protests were staged across Kashmir wherein braid chopping incidents were strongly condemned and failure of the rulers in preventing such incidents was critisized. APHC activities led by Mushtaq Ahmed Sofi, Farooq Ahmed Saudagar, Muhammad Yousuf Bhat, Farooq Ahmed, Muhammad Sidiq Hazar and Sahil Ahmed stated protest against braid chopping at Soura, Anchar. The protestors strongly condemned the growing incidents of braid chopping in Kashmir and also questioned the failure of the government in curbing these incidents. The protestors also said that governments approach towards the elements behind braid chopping is totally callous.