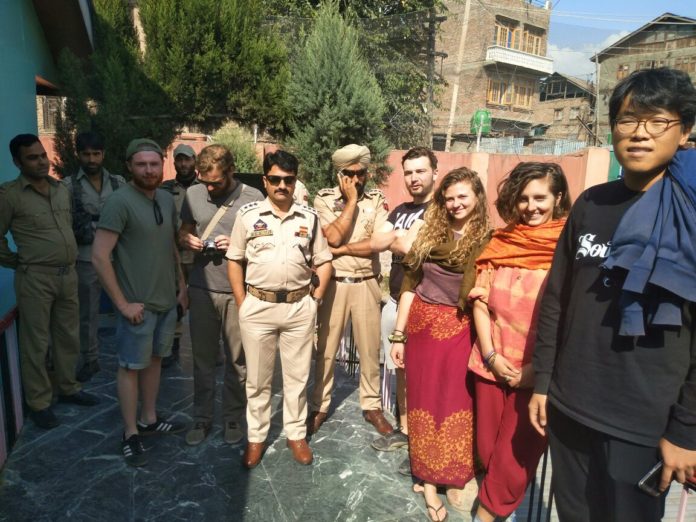 Srinagar, Oct 08 (Only Kashmir): The J&K Police Saturday night rescued six foreign tourists from Kanikachi Latti Mohalla Rainawari somewhere in the interior area of Dal Lake who were holed up by some people after mistakenly as braid choppers.
According to the police spokesman on receiving information a police team headed by Inspector G P Singh rushed to the spot instantly and rescued the holed up tourists.
On enquiring it was found that Six tourists-3 Australians, one South Korean, one from Ireland and one from England (4 males and two females), were traveling from Leh to Srinagar and had lost way and were traveling with the help of Google Map which led them to travel across a link road showing shortcut to Lal Chowk.

On reaching Kanikachi Lati Mohalla the vehicle was stopped by a group of locals who on spotting foreigners in the vehicle started hues and cries which caused a large gathering of people on spot turning into an unruly mob. However, some locals started rescuing the holed up group and called police.
Tourists were taken to a local Hotel and were lodged there comfortably by the police and early in the morning were seen off to their next destination.
On Friday a mob caught two innocent civilians on charges of being braid cutters at Chopan Mohalla, Ishber. Both were beaten blue and black and turned out to be Samir Ahmad Khan son of Noor Mohammad Khan resident of Ahmad Nagar and Tahir Ahmad Beigh son of Ghulam Qadir Beigh resident of Tulwari , Gojwara. The police have requested people not to resort to vigilantism and cooperate with police in this matter.