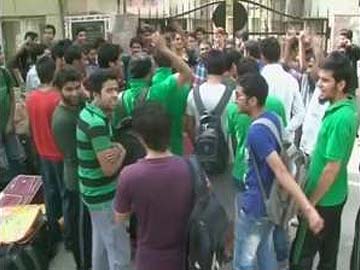 Srinagar, Oct 12 (Only Kashmir): All J&K Students Union while expressing dismay over the government's decision to close all the educational institution of Kashmir valley on Thursday in view of the protest call against the braid chopping incidents said, school lockdown cannot help to resolve the problem rather it exposes the amount of authority PDP has surrendered.
In a statement to Onlykashmir.in the AJKSU said, students have right to express the fear they witness, in homes, hostels, schools and markets and it becomes their moral obligation to protest against it. Despite taking any concrete steps, authorities are busy in branding the victims as mentally ill or blaming others, which is absurd.

A working president AJKSU Aasif Wani questioning the authorities said; are schools the only place where students need calm atmosphere? What about students, who prepare for exams and are unable to switch on the light in evening? Even small sounds made them squeak out of fear, he added.
Feigning helplessness and terming the victims mentally defected speak volumes about the forces benefitted by the current scenario; we cannot be fooled by pleading ignorance or innocence. Kashmir has witnessed acts of similar nature in past, which have failed, and time is not far when this will meet its, failure too.
Pertinently, The Joint Resistance Leadership (JRL) has called students of colleges, and universities across Kashmir to stage peaceful protests on Thursday against the growing braid chopping incidents in Kashmir.