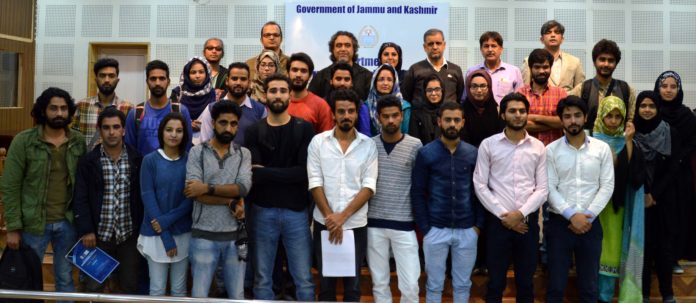 Srinagar, Oct 16 (Only Kashmir): The 15-day workshop on 'Documentary Filmmaking' conducted by Department of Information and Public Relations (DIPK) concluded here today after valedictory and certificate distribution function at the Auditorium of the Media Complex, Polo View, Srinagar.
The workshop which was scheduled from 3rd October, exposed students to the screening and analysis of selected portions of canonical and other important, relevant films and whole film, hands-on techno-aesthetic lessons, making presentations, exercises, projects and classroom, lab-based practical exercises with pre-generated customized rushes and self –generated footage including outdoor shooting and making of a documentary proposal, pitch.
The workshop was attended by media students from Media Education Research Centre (MERC), University of Kashmir, Media Studies Department, Islamic University of Science and Technology (IUST), Department of Journalism, Government Degree College Baramulla, Department of Journalism Government College for Women, Srinagar and Department of Journalism, and Government Degree College Anantnag.

Speaking at the valedictory and certificate distribution function of workshop, the Director Information Muneer-ul-Islam said the Department is receiving huge response from the media students and media professionals for organizing such trainings and workshops. He said regular trainings and workshops will be organized by DIPR in future to equip the media students with core skills.
He said the 15-day intense workshop on 'Documentary Filmmaking' was organized to introduce media students to the aesthetics and technicalities of documentary making.
"Arasta Trust has done a commendable job by bringing in professionals like noted filmmaker and teacher, Gautam Chakraborty for training our students," he said. "The workshop has given a big boost to the media students and they wanted it to be continued for some more days," he said.
During the workshop, noted filmmaker and teacher, Gautam Chakraborty introduced students to the fundamentals of documentary making, photography, videography and audio recording. He also discussed with students filmmaking techniques and approaches.
Speaking on the occasion, Gautam Chakraborty said that the documentaries have never been hotter or more commercially promising—whether you are looking for a career or are out to change the world.

Meanwhile, to address the issues pertaining to the settlement of advertisement bills of the newspapers following implementation of Goods and Services Tax (GST) regime, the Department of Information & Public Relations in collaboration with the Commercial Taxes Department, J&K is organising a Special Workshop at the Auditorium of the Media Complex, Polo View, Srinagar on 21st October 2017 at 11.00 am.