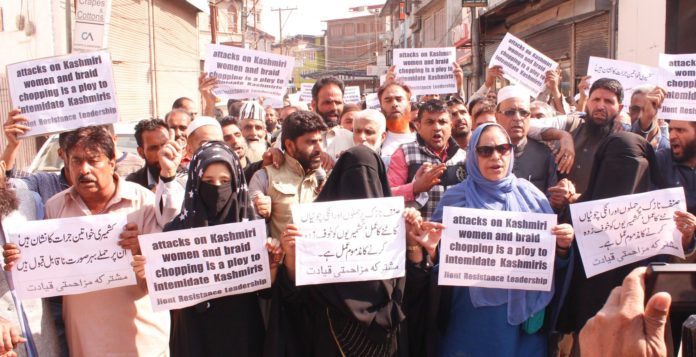 Srinagar, Oct 19 (Only Kashmir): The joint Resistance Leaders (JRL) and activists on Thursday staged a peaceful protest at Lal Chowk Srinagar against the rising incident of braid chopping in the nook and corner of the Kashmir Valley. Threatened to launch widespread protests if authorities failed to stop the incidents, the JRL said that while dealing this threat, we should enhance our society based vigil and deal with nobility.

Leaders and activists from joint resistance leadership along with people from many walks of life gathered outside JKLF office Abi-Guzar and marched towards Lal Chowk. Holding placards in hands and raising slogans against braid chopping incidents, protesters strongly condemned these attacks.
Among those who participated in protest included Zamrooda Habib, Showkat Ahmad Bakhshi, Ghulam Qadir Baigh, Hakim Abdul Rashid, Farooq Ahmad Sodagar ,Imtiyaz Hiader, Zahoor Ahmad Butt, Sheikh Abdul Rashid, Advocate Yasir Ahmad Dalal, Muhammad Yousuf Naqash, Muhammad Yasin Ataiee, Muhammad Sideeq Shah, Bashir Ahmad Kashmiri, Ishfaq Ahmad Khan, Imtiyaz Ahmad Shah, Abdul Hamid Alaie, Muhammad Sideeq Hazari, Sahil Ahmad War, Farooq Ahmad Sheikh and Firdous Ahmad Shah and many others.
Calling for peaceful protests tomorrow on 20th October 2017, after Friday prayers, against these continuing attacks on Kashmiri women, JRL leadership said that growing attacks on women and ugly acts of braid chopping are a direct attack on our dignity and no Kashmiri will tolerate these attacks anymore.
JRL leaders said that Kashmiri mothers, sisters and daughters are under attack from some hidden enemy. We as a nation are living in an unrelenting horror and worry but so-called rulers, their police and other agencies remain absolutely naïve about it. So-called rulers are busy riding scooters and arranging music concerts and their forces and agencies are calling this menace as mere frenzy.

JRL leaders said that Hundreds of our sisters have been left shaken by unidentified assailants and police and forces who take no time to identify even masked protesters and take no time in finding the hidden faces behind every happening and are punctual while crushing the peaceful political activities till now claim no breakthrough. This ignorance is actually proving that entire matter is doubtful and situation extremely startling. Emphasizing on the need of unity to fight this menace, JRL leaders said that while dealing this threat, we should enhance our society based vigil and deal with nobility.