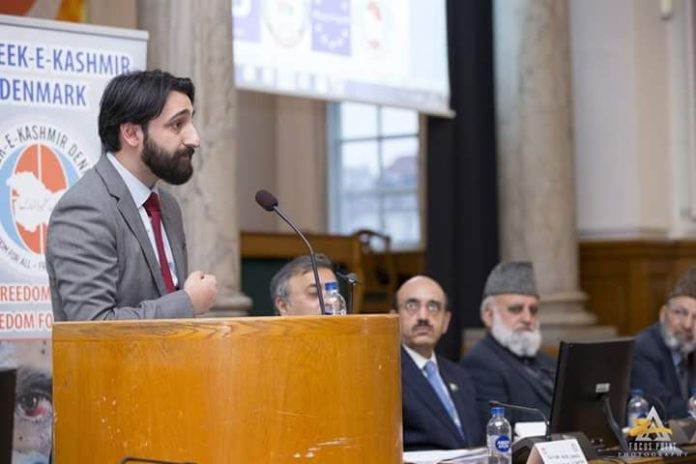 Copenhagen, Oct 21 (Only Kashmir): In a bid to aware the world community regarding the dangers of lingering Kashmir issue and the sufferings of the people of Kashmir, an international conference jointly organized by the Tehreek-I-Kashmir Denmark and Danish Pakistani Affairs Council was organized in Taastrup region of Denmark's capital Copenhagen. Prominent Kashmiri leaders including President AJK Sardar Masood Khan, President World Kashmir Freedom Movement (WKFM) Muzzammil Ayyub Thakur, APHC Convenor Ghulam Muhammad Safi and MLA/Ex Amir Jamaat AJK Abdul Rashid Turabi, Pakistani Ambassador to Denmark Syed Zulfiqar Gardezi, both UK and Europe Presidents of Tehreek Kashmir and Dr Imtiaz of KAC came from all over the world including USA, Kashmir, UK, Italy Spain, Norway, Sweden and Pakistan to participate in the Conference.

The members of Danish Parliament and various local MP's from departments like foreign affairs also attended the Conference.
During his address World Kashmir Freedom Movement President Muzzammil Ayyub Thakur narrated individual stories of suffering, moving the audience to tears. He reminded people of the human suffering and the need to remember the sacrifices of Kashmiris and represent the sentiment of azadi internationally.
Reflecting on Muzzammil's statement, other prominent Kashmiri leaders reemphasised that kashmiris are "born, raised, live and die" with the fact that Kashmir is a disputed place awaiting a final resolution, adding, the resolution of the issue can always be reached provided there is a willingness to accept the facts, and compassion, humanity and mutual respect among the parties involved while addressing the problem and a keenness to work towards real peace by all.
The speakers at the conference observed that Kashmir is a human issue concerning hundreds of thousands of people and divided families hanging by fire since the last 70 years, leading to great suffering and loss of life on all sides that beg for a just resolution.
Pertinently, the Conference was a Tehreek Kashmir Europe and Danish Pakistan Affairs Council.