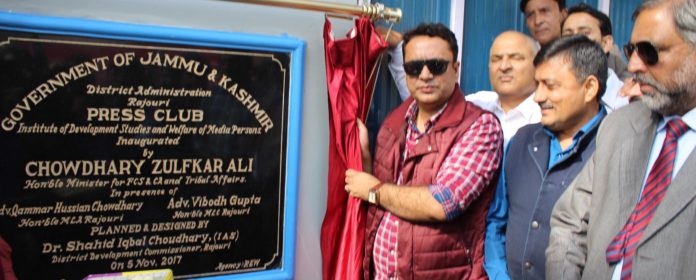 Jammu, Nov 05 (Only Kashmir): In a significant development a building for Press Club at Rajouri distinct of Jammu and Kashmir was Sunday formally inaugurated by Minister for Food, Civil Supplies & Consumer Affairs and Tribal Affairs, Ch. Zulfkar Ali in presence of district officers and media persons.
Besides others present on the occasion were legislators Adv. Qammar Hussain Chowdhary and Adv. Vibbodh Gupta, DDC Dr. Shahid Iqbal Chowdhary, SSP Yougal Manhas, ACR Abdul Qayoom Mir, ACD Noor Aalm, Addl. SP, Mohd Yousuf, DSWO Dr. Abdul Khabir, Dy. Registrar Cooperatives Waqar Talib.
While congratulating media persons for the historic step of district administration, the minister said the press club will provide much needed space for media persons to come together, discuss and debate, analyze and build discourses, narratives and counter narratives.
He said that various initiatives including Journalist Welfare Scheme is under consideration of the government for ensuring welfare of the fraternity. He also held the inaugural press conference in it.
"With the media's primary role of building an informed citizenry and scrutinizing those who govern, the institution will help in providing a free and legitimate space for the 4th pillar of democracy to work, plan, organize and deliver", he said.
The legislators while complimenting the district administration for the historic initiative said that the press club will provide vibrant and ever evolving environment for the fourth pillar of democracy to grow. MLA Rajouri Ch. Qammar Hussain also announced Rs. 5 Lakh from his CD fund for further development of this prestigious institution.
He also informed that the members of press club Rajouri will be given tribal research project.

Speaking on the occasion, Dr. Shahid said the press club has been completed in a record time of 4 months and while giving due consideration to the various facets of media functioning, the press club has been designed with all the modern amenities and state of the art infrastructure including a conference hall, gymnasium, library, IT cell, meeting rooms, pantry and outdoor sport facilities.