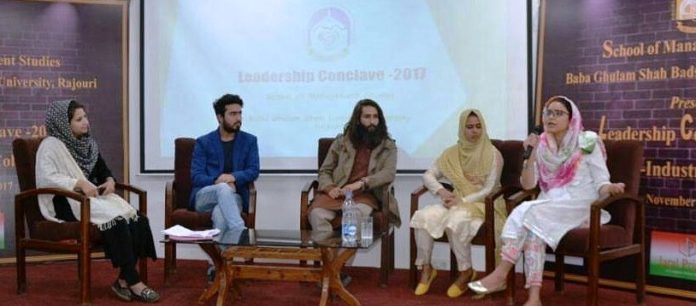 Bilal Bashir Bhat
Rajouri, Nov 12 (Only Kashmir): The Department of School of Management Studies and Economics, Baba Ghulam Shah Badshah University (BGSBU), Rajouri, Saturday under the banner of 'Leader Ship Conclave 2017' organized an impressive event to felicitate the young entrepreneurs of Jammu and Kashmir State.
The aim of the event was to acknowledge the contribution of young entrepreneurs towards Socio-Economic development of the society by standing as a symbol of success in a very perilous business environment.
Besides others, Kashmir's prominent Fashion Designer Shahid Rashid Bhat founder SRB Style Statement, Omaira Qayoom Khan and Binish Bashir Khan young entrepreneurs dealing with handmade Crochet under the aegis of Craft World Kashmir were felicitated with momentous followed by a special interactive session with BGSBU students wherein they shared their experiences in setting up new ventures.
Besides heads of various departments, the event saw presence of several dignitaries including Vice-Chancellor Prof Javed Musarrat, Head of the Management Studies and Economics Deptt Prof Naseem Ahmed, Mr. Danish Iqbal Assistant Professor and Event Coordinator and Sabiha Mufti.
The speakers on the occasion envisioned that these budding entrepreneurs are a key to a knowledgeable society and a strong nation. They made the students aware of the background and history of BGSBU.
On the sideline of the event, Shahid Rashid Bhat while talking to Onlykashmir.in hailed the affords of BGSBU for organizing such events and said being an entrepreneur especially a solopreneur can often feel like a lonely journey. Fortunately, there are many opportunities to take a break, get up from desk and join fellow entrepreneurs to learn or socialize and such goodness happens only via such events.
"Jammu and Kashmir is a land of opportunities for new trends, innovative marketing strategies and dynamic business models, there are many success stories in Valley for youngsters who aiming to become successful entrepreneurs. Recognizing the talent of Young Entrepreneurs and felicitating them by BGSBU is appreciable," said Omaira Khan while talking to Onlykashmir.in
Pertinently, BGSBU provided pick and drop and lodging arrangements for the young entrepreneurs who visited from different districts of Jammu and Kashmir.