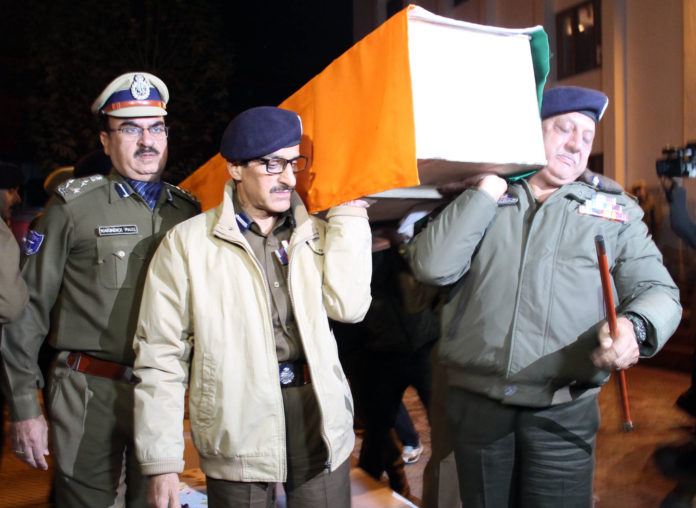 Srinagar, Nov 17 (Only Kashmir): A police officer identified as Imran Ahmad was killed after militants attacked a police party near Zakura in the outskirts of Srinagar city. A close associate of Zakir Musa and affiliated with Ansar Ghazwat-ul-Hind identified as Mugees Ahmad Mir was also killed in the attack, whileas a militant was captured live.
Police sources said that a group of militants fired upon a police party that was on way to Zakura resulting in the injuries of two policemen including Sub-Inspector Imran Ahmed and Constable Suhail Ahmed.

Imran Ahmed succumbed to his injuries while wounded constable is undergoing treatment.
A militant hailing from Parimpora area of Srinagar identified as Mugees Ahmad Mir, son of Abdul Aziz Mir, active since many years, had sustained bullets but managed to escape from the spot at Zukura. According to police the wounded militant made a call to his family before he succumbs to his injuries.
Reports said that a militant has also been arrested during the melee.
Meanwhile the wreath laying ceremony for the slain cop was observed in Police Control Room Srinagar. Among the police officers who presented wreaths and flowers included IGP Kashmir Munir Ahmad Khan, IGP Armed (Kashmir) S. Ahfadul Mujtaba, DIG CKR Shri Ghulam Hassan Bhat, and a number of SsP & Commandants of armed/IR, DySsP and Jawans.
Chief Minister, Mehbooba Mufti has paid rich tributes to the Sub Inspector of J&K Police, Imran Talk, who was killed today at Zakura, Srinagar. She said violence is no means to achieve any goals, rather it tears apart the entire social fabric of the society.