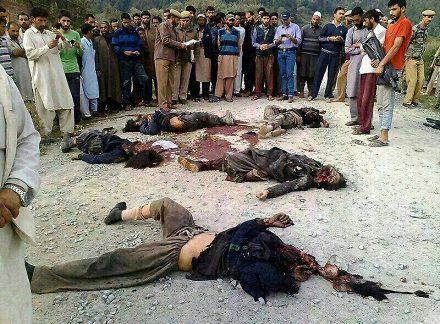 Bandipora, Nov 18 (Only Kashmir): (File Photo) A day after a policeman and a militant were killed in Zakura firing incident, at least six militants and an Indian Air Force Commando were killed in a gunfight that broke out in Hajin area of North Kashmir's Bandipora district on Saturday.
Defence spokesman Col Rajesh Kalia said that six militants were killed in the ongoing gunfight. "A soldier of 13 RR was wounded in the gunfight," he said. Reports said that IAF Commando who had sustained injuries succumbed in the hospital.
Seven militants were believed to be trapped inside the cordoned off area.

Gunfight had raged after government forces cordoned off the Chandargeer Jamia Mohalla in Hajin area of Bandipora district.
Reports said that after receiving inputs about the presence of militants, government forces comprising 13 Rashtriya Rifles of Indian Army assisted, India Air Force Commandos by CRPF and SOG of Jammu Kashmir Police cordoned off the area.
Sources said that during search operation, a contact was established with militants when they fired upon the soldiers.
In the ensuing encounter, at least six militants believed to be affiliated with Lashkar-e-Toiba were killed while an Indian Air Force Commando and a soldier sustained injuries. The IAF Commando later succumbed to his injuries in the hospital.
Srinagar based Defense Spokesperson, Colonel Rajesh Kalia said that five militants were killed while a soldier also lost his life. "Another soldier sustained injuries and is being treated in the hospital," he said.
Pertinently, last month on October 11, two Indian Air Force commandos training with the army were killed in a fierce encounter with militants in the same district.