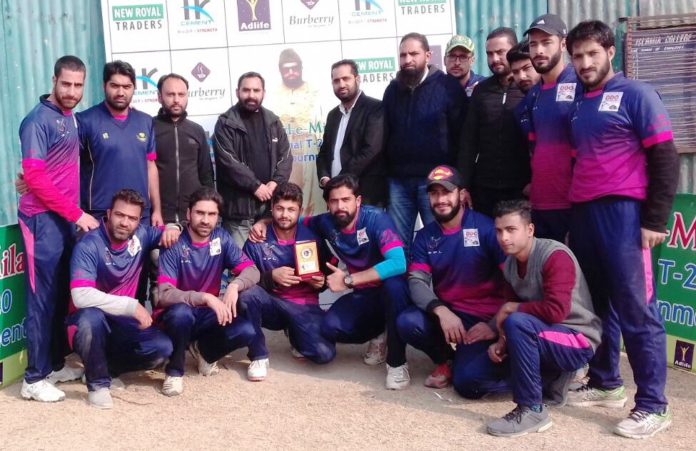 Bilal Bashir Bhat
Srinagar, Nov 30: The first round of ongoing Shaheed-e-Milat T20 Cricket Tournament concludes on Thursday following the last match between Odo Spartans v/s H.K Star XI was played amid the presence of massive contingent of cricket fans at Islamia College Srinagar. During the first round of tourney around 15 matches were played between the participating 30 teams of the tourney. The second round of the tournament will begin from Saturday among the 15 qualified teams.

On Thursday during the last match of the first round Odo Spartans beats H.K Star XI with a huge margin of 91 runs. Odo Spartans who chose to bat first after winning the toss with the help of Muthar Ahmad's half century in just 38 balls set a target of 184 runs before H.K Star XI.
Chasing the target H.K Star XI had bad start as a result the whole team collapsed half of the runs target. Amir Sofi of Odo Spartans who hit the 42 runs and took a crucial wicket was declared Man of the Match.
Throughout the match there was unbridled passion of the Cricket fans with Umar Iqbal Dhar & Hilal Ahmad Bhat senior office bearers of Jammu and Kashmir Private Diagnostics Centres Association as Chief Guests.
Besides others the senior members of organizing committee Shaheed-e-Milat T20 Cricket Tournament S. Manzoor and Tanveer Sidiq were also present at the presentation ceremony.