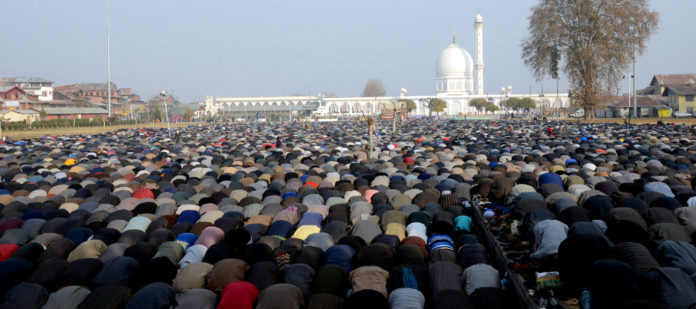 Srinagar, Dec 01 (Only Kashmir): Like other parts of the world, Eid-e-Milad-un-Nabi (S) he birth anniversary of Prophet Muhammad (SAW), was celebrated across Kashmir valley with religious zest and fervour. The day begin with special prayers at mosques and Shrines where various Durood-o-Salam and Naat, gatherings took place. Hundreds of processions were held in Srinagar and other district headquarters.
The largest gathering was witnessed at Hazratbal shrine in Srinagar housing the relic of the Prophet of Islam (SAW) where thousands of devotees thronged to have a glimpse of the holy relic.
The second largest gathering was witnessed at historic Jamia Masjid Srinagar where Kashmir's chief cleric Mirwaiz Umar Farooq delivered a sermon to highlight various aspects of the life and teachings of Prophet Muhammad (SAW).
Special congregational prayers were organized at Jenab Sahab Soura, Asar-e-Sharif Shahri Kalashpora, Lal Bazar, Khanqah-e-Maula, Ziarat Hazrat Dastgeer Sahab (RA), Syed Yaqoob Sahab (RA) Sonwar, Khawaja Naqshband Sahab (RA) and Ziarat Makhdoom Sahib (RA).
National Conference President Dr. Farooq Abdullah visited Dargah Hazratbal shrine early morning on Friday and offered Fajar prayers there on Eid-e-Milad-un-Nabi (SAW). He paid obeisance at the shrine and prayed for peace, harmony and prosperity in the State.
Minister for Animal, Sheep Husbandry and Fisheries, Abdul Gani Kohli today attended a religious function organized in-connection with celebrations of Eid-ul-Milad-un-Nabi (SAW) at Kalakote. Hundreds of people across the district Rajouri attended the conference where various religious scholars threw light on the teachings of Prophet Mohammad (SAW).
A first-aid cum facilitation camp was set up by Civil Defence Srinagar at Hazratbal and was attended by Director, Disaster Management & Dy. Chief Warden Civil Defence, Aamir Ali, Coordinator, ASI (M) Shabir Ahmed Khan, Divisional Warden Imtiyaz Ahmed Bhat and numerous volunteers
Inputs: Kashmir News Bureau