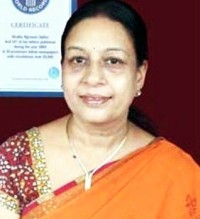 Only Kashmir | Madhu Agrawal | 11 Dec 2017

The swift arrest and subsequent police-remand of business-class air-passenger of Vistara Airlines during Mumbai-Delhi flight in night-hours of December 2017 on complaint of alleged molestation by celebrity minor actress is unjust as this swift action was taken without applying any common sense only because the complainant was a celebrity girl.
It is unbelievable that a matured girl traveling with her mother in business-class of the airplane could not find any opportunity to shout in the two-hours long journey to complain about alleged molestation.
Air-crew in flights of all airlines are traditionally extra careful especially for business-class passengers who otherwise are very close to air-crew sitting just next to front-row business-class seats. It is most likely that such undeliberate touching might have been because of drowsiness usually possible especially in such late-night flights. Even widely circulated video does not establish any deliberate touching of the minor actress by the accused passenger. Complainant chose to resort to social media rather than lodging any police-complaint just after alighting from the aircraft.
Investigating officers of Mumbai police must have applied their own mind without succumbing to media-pressure by initiating preliminary enquiry before arresting the accused air-passenger. Who will be responsible for loss of reputation, time and money lost of the passenger if investigation ultimately prove to be untrue?
It may be recalled that such media-trial of some innocent boys on complaints of some girls traveling in a bus in Haryana proved to be fake after the boys were unnecessarily put to big humiliation and embarrassment on all TV channels leading to unjust arrest.
Madhu Agrawal is a Delhi based Guinness Record Holder for letters in newspapers