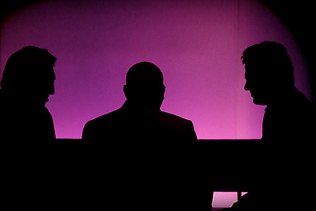 Kashmir News Bureau
Srinagar, Dec 14 (KNB): The silent and off record buzz in the corridors of pro-freedom circles of Kashmir is that rigidity shown with respect to talks offer of the government of India is not yielding positive results. These sentiments are specially echoed by the second rung Hurriyat leadership and also by those lodged in jails.
As the cold approach reached pedestal, the news that came through was that senior and seasoned voice of Hurriyat (M) Professor Abdul Gani Bhat had met centre's interlocutor Dineshwar Sharma.

"What has the strategy of rejecting talks gained. We as pro-freedom thought and movement closing doors for any talk offer is not taking us anywhere. The ice needs to be broken as on ground bloodshed, death and destruction cannot continue forever. When we have seen no party can get Kashmir settled via war and violence then we believe that the resistance camp should be more magnanimous to the talks offer," the sentiment is expressed by many jailed and second rung separatist leaders.
Interestingly enough, since more than two decades long incarcerated Ameer of Muslim Deeni Mahaz, Dr Muhammad Qasim (MDM) had stated few time back "In 2021 polls, BJP will emerge as single largest party in Jammu and Kashmir as it will sweep all 37 seats in Jammu while in Kashmir the 46 assembly seats will be divided amongst NC, PDP, Congress and other pro-India parties as their existence has been shrunken to Kashmir. This is the reason that all the development work is in full swing in the Jammu region," he said.
With Kashmir situation seeing no headway it looks that in 2018 pro-talks voices might gain more momentum within the ranks of separatist leadership.
"Every time Hurriyat can't run away from talks on pretext of 'triangular', Pakistan and India as nations have different issues to resolve apart from Kashmir, the 70 years old political uncertainty has resulted in mass destruction of life and property in Kashmir and even it is still going on. We can't wait for last death in Kashmir to start dialogue with Indian representative. Time has come the leaders at the helm of affairs shun rigidity and provide ground to the visiting delegations to hold talk with them," a pro-freedom activist said and added, the reactionary politics by the Hurriyat camp will yield no result until the concrete steps are not taken for to make a conducive atmosphere for the talks.