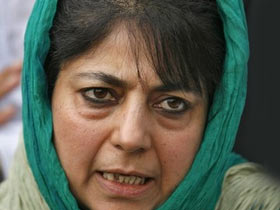 Bilal Bashir Bhat
Srinagar, Dec 19 (Only Kashmir): The amnesty to first-time booked stone pelters by withdrawing First Time Reports (FIRs) has evoked a positive response from the youth who from several years had to present themselves before court after short spans of time. Though Mehbooba Mufti herself is not the architect of the verdict of amnesty this decision has been implicit in creating a positive change among the youth towards the state's first lady Chief Minister who remained center for opprobrium ever since she took command of the 'unholy' alliance.
The Mehbooba Mufti led government's initiative to drop charges against an estimated 4,500 people, mostly youth involved in stone-pelting incidents based on recommendations by the Centre's interlocutor Dineshwar Sharma has evoked a positive response from different sections of society.

The announcement has brought a sigh of relief to the thousands of families whose children had to face immense difficulties related to education, job opportunity and travel documents due to the FIRs against them. The relief is not limited to the youth and their families only but also to those alleged stone pelters who are based outside Kashmir and were compelled to present themselves before the court of law.
Talking to Kashmir News Bureau, a youth (name withheld) said, "the decision to withdraw cases against youth has changed my perspective towards the CM Mehbooba Mufti, I was falsely booked during 2010 agitation, but since then almost from past seven years I had to appear before court periodically after three months." He further stated "being a businessman I have no dealings with court, but the factual reality is that I visited all the three complexes of court that were shifted from time to time to different vicinities in the past seven years."
Another youth pleading anonymity recounted his ordeal with Kashmir News Bureau, he said "I had qualified interview for a Multi-National Company (MNC) and was supposed to be posted at Dubai, but due to the FIR against me, I was not able to obtain my passport which resulted in mental and psychological trauma, but now this announcement has evoked my expectations and I hope it won't be limited to announcement only but will have practical implications on ground for my better future."
Pertinently, in 2011, the then Chief Minister Omar Abdullah also announced an amnesty for nearly 1,200 young men. However, in today's case, he credited central government in ordering the withdrawal of cases. "Dineshwar Sharma & Home Ministry in Delhi ordered the withdrawal of cases. Ms. Mufti was left to sign the file," Omar Tweeted.
Let me correct this for you – Dineshwar Sharma & Home Ministry in Delhi ordered the withdrawal of cases. Ms Mufti was left to sign the file. https://t.co/3ec1IIx0va

— Omar Abdullah (@OmarAbdullah) November 29, 2017
Meanwhile demanding the revocation of 'black laws' like AFSPA and PSA the chairman of moderate faction of Hurriyat (M) Mirwaiz Umar Farooq termed the announcement as a "Cosmetic Effort," Mirwaiz in a tweet said "If Government is serious & sincere & there is really a change of heart & approach then all political prisoners should be immediately released, their freedom restored & AFSPA, PSA revoked."
Withdrawing FIR against so called "first time stone pelters"looks more as a looking good cosmetic effort.If Govt is serious & sincere &there is really a change of heart &approach then all political prisoners should be immediately released,their freedom restored &AFSP,PSA revoked pic.twitter.com/KALIAkC1AH
— Mirwaiz Umar Farooq (@MirwaizKashmir) November 24, 2017

Pertinently, the killing spree and rain of pellets which left thousands maimed in 2016 created the rage among youth against the Mehbooba Mufti led government. The 'anti-people' decision to forge alliance with BJP was also a reason to evolve Mehbooba center for opprobrium in Kashmir. (KNB)