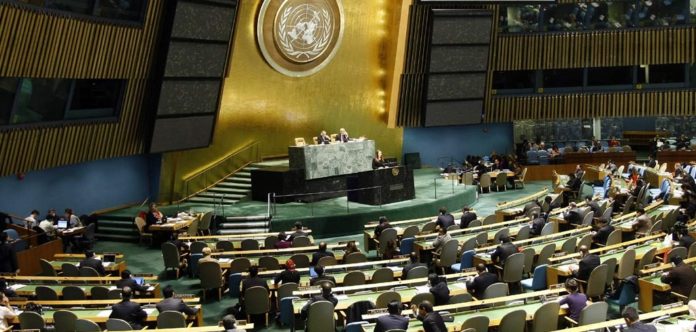 United Nations, Dec 22 (Only Kashmir): The United Nations General Assembly (UNGA) on Thursday adopted by a decisive vote of 128 to 9, with 35 abstentions, a motion rejecting the US decision to recognize Jerusalem as Israel's capital, after President Donald Trump threatened to cut funding to countries that back the measure.
Gathered in an emergency session, the General Assembly is to decide on a draft resolution reaffirming that the status of Jerusalem must be resolved through negotiations, and that any decision reached outside of that framework has no legal effect and must be rescinded.
On Dec 13, rejecting the recent decision of US, the Organisation of Islamic Cooperation (OIC) a group of prominent 57 Muslim leaders has declared East Jerusalem as the capital of Palestine. The OIC also called on the UN to "end the Israeli occupation" of Palestine.
The group of Muslim leaders on Wednesday called on all countries to "recognise the State of Palestine and East Jerusalem as its occupied capital".
Trump's decision on December 6 to recognize Jerusalem as Israel's capital broke with international consensus and unleashed protests across the Muslim world, prompting a flurry of appeals to the United Nations.
The status of the Holy City is one of the thorniest issues in the Israeli-Palestinian conflict, with both sides claiming it as their capital.A draft resolution rejecting the US move was sent to the General Assembly after it was vetoed by the United States at the Security Council on Monday, although all other 14 council members voted in favor.
Earlier, Trump warned that Washington would closely watch how nations voted on Thursday, suggesting there could be financial reprisals for countries that back the motion put forward by Yemen and Turkey on behalf of Arab and Muslim countries.
"They take hundreds of millions of dollars and even billions of dollars and then they vote against us," Trump said at the White House."Well, we're watching those votes. Let them vote against us. We'll save a lot. We don't care."
"The attitude to Israel of many nations in the world, in all the continents, is changing outside of the UN walls, and will eventually filter into the UN as well — the house of lies," he said.