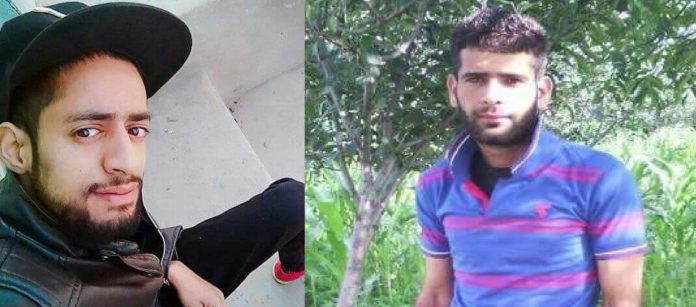 Srinagar, Jan 27 (Only Kashmir): Two civilians were killed in Ganowpora village of south Kashmir's Shopian district on Saturday taking the toll of 3 civilian killings this week. Sources said forces opened fire while responding the violent protests in the area resulting the killing of two protestors and injuries to many.
The deceased youth were identified as Suhail Javaid Lone of Rawalpora and Javid Ahmad Bhat and Raies Ahmad of Balpora.
Reports reaching KNB stated that youth hurled rocks at the government forces in Ganowpora village. They said that forces responded by opening fire on the protesters, resulting into injuries to eleven people.
DIVISIONAL COMMISSIONER ORDERS PROBE
Divisional Commissioner Kashmir Baseer Ahmad Khan on Saturday ordered a magisterial inquiry into the killing of two civilians and injuries to several others allegedly by army in Shopian district of south Kashmir.



ARMY STATEMENT
Commenting on the incident the Army spokesman in a statement to KNB said "on 27Jan18, an army convoy consisting of seventeen vehicles comprising mainly of administrative elements was moving from Balapur to Kaindajan. At around 1500h, while the convoy was passing through Ganaupura chowk it came under unprovoked and intense stone pelting by a group of 100-120 stone pelters. Within no time, their numbers swelled to 200-250 persons. The crowd surrounded an isolated portion of the convoy consisting of four vehicles. They caused extensive damage to these vehicles and tried to set them on fire. A junior commissioned officer accompanying the convoy got hit on the head and fell unconscious suffering serious injury. The mob tried to lynch the individual and snatch his weapon. The violent crowd further closed in towards the vehicles and attempted to set them on fire. Considering the extreme gravity of the situation the army was constrained to open fire in self defence to prevent lynching of the JCO and burning of Government vehicle by the mob. A total of seven army men suffered injuries and extensive damage was caused to eleven vehicles."
POLICE REGISTERS FIR
In connection with this case, FIR No. 26/2018 under relevant sections of law stands registered in Police Station Shopian and investigation has been set into motion.
JRL CALLS SHUTDOWN
Meanwhile Joint Resistance Leadership (JRL) comprising of Syed Ali Geelani, Mirwaiz Umar Farooq and Muhammad Yasin Malik have called for shutdown on Sunday aginst the civilian killings in Shopian.
MOBILE INTERNET SNAPPED, RESTRICTION TO REMAIN IN PLACE
The authorities fearing widespread protests snapped 3G and 4G Mobile internet services, besides announcing to impose restrictions on Sunday to maintain what they say law and order. "The restrictions have been imposed as a precautionary measure to avoid any untoward incident," a government spokesman said here.



MEHBOOBA RINGS UP DEFENCE MINISTER
Chief Minister, Mehbooba Mufti this evening spoke to Defence Minister, Nirmala Sitharaman and expressed anguish over the loss of lives in the incident. The Chief Minister said every civilian killing, notwithstanding how erroneously made, impairs the political process in the State which has been put on track after hard work by all political parties.
The Defence Minister assured the Chief Minister that she would seek a detailed report in this regard and would impress upon the field formations that mechanisms put in place are strictly adhered to so that such incidents do not recur in future.
THIRD CIVILIAN KILLING IN A WEEK
Earlier, a civilian identified as Shakir Ahmad Mir (17) of Qalampora was Wednesday killed in Shopian, South Kashmir after hit by pellets during the clashes which erupted following the encounter in the area between militants and the government forces.