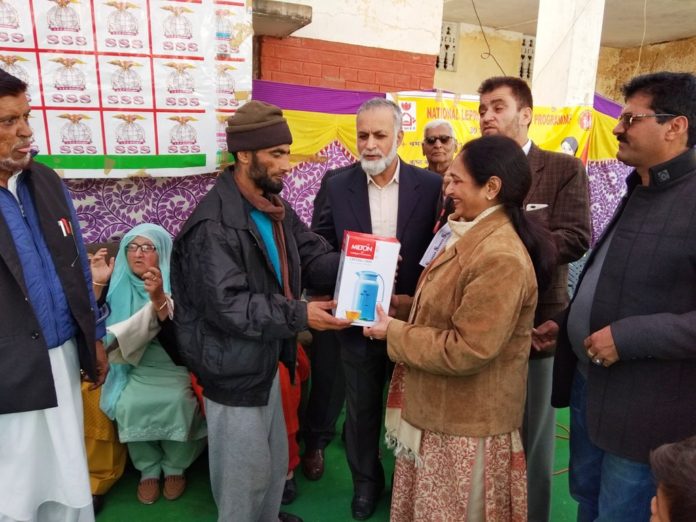 Jammu, Jan 30 (KNB): On the eve of World Leprosy Day, Valley-based Shaheen Sports Syndicate Tuesday organized leprosy awareness program at Khust Asharam Bhagwati Nagar Jammu where kettles and woolen clothing among Leper patients were distributed.
Former SSP police and District President JKFA Sheikh Mahmud was the chief guest along with Principal Bright Candle High school Meena Kamal Gupta and Former President Bank officers Association Zahoor Ahmad Khan were among the dignitaries.
On the occasion, Chairman SSS Showkat Ahmad Khanyari said "from downtown Kashmir we have come to Jammu to serve pepper patients on this important day. We will be continuing it and further work towards their betterment and prosperity."



"Today's distribution and awareness program are very important in educating people about leprosy disease. It is our moral duty to help this unprivileged class of society. That's the reason we always come from Kashmir to help needy people in Jammu" he added.
As a society, we have to contribute to the betterment of our people which SSS and its members are implementing. Khanyari also highlighted the role of JK bank in their assistance to social service and appealed people to further strengthen their bonding of relationship with JK Bank and prayed for Bank's prosperity and development in present and ahead of future to come.
He further deliberated upon the role and contribution of Mahatma Gandhi towards social work and towards leper patients across India and further thanked donors of SSS who have always provided financial support to this social trust.
Lastly, secretary SSS Mohammad Farooq Matto and Ramesh Dogra thanked all the doctors and social workers for their support and lending their helping hand towards awareness and social work at leper colony Jammu.