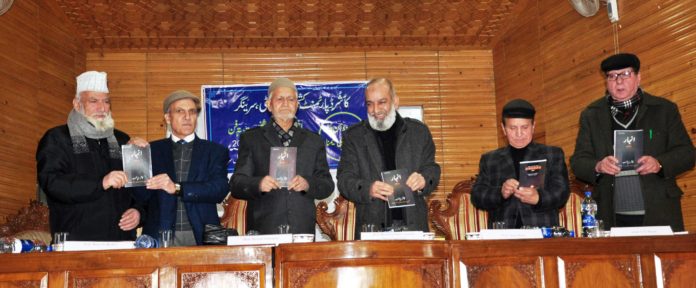 Srinagar, Feb 09 (Only Kashmir): Organized by Kashmiri Department of Kashmir University, a two-day seminar titled 'Akhtar Mohiuddin: Fan-te-Shaksiyat' to explore the life and works of Novelist, playwright and short story writer, Akhtar Mohiuddin Thursday concluded on a note to promote Kashmiri language, literature.
The seminar saw the participation of galaxy of writers and scholars from length and breadth of Kashmir valley. A book titled 'Rubayate Umer Khayam', translated by Sultan-ul-Haq Shaheedi and annual journal of the Kashmiri department 'Anhar' were released on the occasion.



On first day, Vice-Chancellor Prof Khurshid Iqbal Andrabi presided over the seminar, organised by the Department of Kashmiri, to explore the life and works of Akhtar Mohiuddin.
In his address, Prof Andrabi underscored the need for promotion of Kashmiri language and literature among the masses, especially youth. He assured the university's full support to such endeavors.
HoD Kashmiri Prof Majrooh Rashid highlighted the aims and objectives of the seminar, as well as the achievements of the department of Kashmiri over the years, while Prof Mahfooza Jan conducted the proceedings of the inaugural session.
Prof Shafi Shauq, former Dean, faculty of Arts and former head department of Kashmiri, presented the keynote address and gave an insight into many aspects of Akhtar Mohiuddin's short stories which have not hitherto been explored.
Noted writers and scholars including Ghulam Nabi Khayal and Dr Mashal Sultanpuri highlighted the creative depth and potential of Akhtar Mohiuddin and referred to several of his short stories wherein he has mainly discussed the life and times of the people of Kashmir.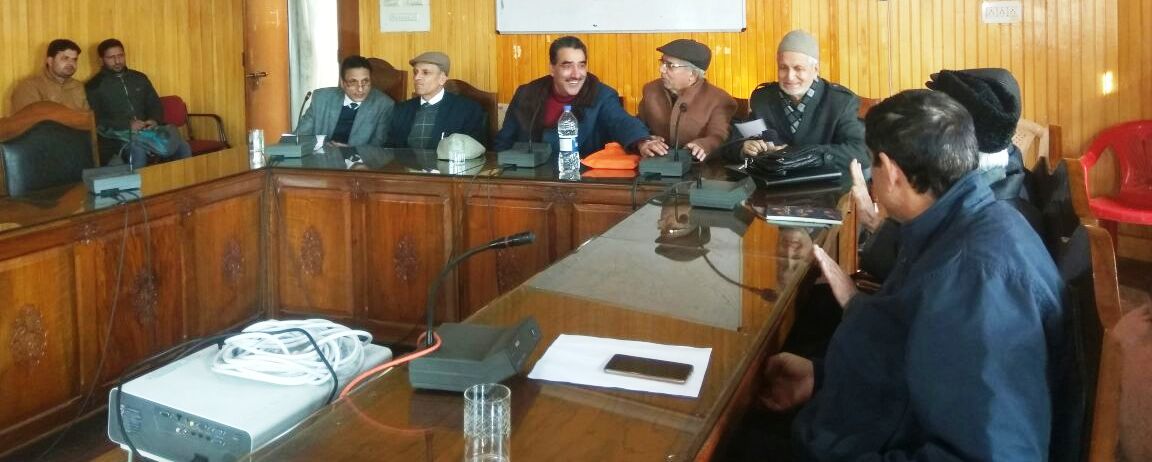 Prof.Mashal & G.N. Khayal highlighted the works and achievements of Akter Mohi-ud-din and further laid the emphasis upon the research to evaluate the writer in the right perspective. Besides welcoming the guests, HoD Kashmiri prof.Majrooh Rashid apprised the audience about the initiatives taken by the University for the Promotion of Kashmiri language & Literature. He further informed that the Department of Kashmiri moved a proposal for introducing Kashmiri in North & South campuses of the varsity and for establishment of translation Bureau in the Department of Kashmiri.Prof.Majrooh also said that the Department had requested the University authorities for the creation of two Assistant Professors in the Department.



In the first session of day two four papers were presented respectively by Mr. Farooq Masudi, Dr.M.S.Sumbli, Dr.Abid Ahmad & Mr.Annyatullah Dar. The session was chaired by Prof.R.L Talashi. Third and last technical session of the seminar was presided over by prominent Kashmiri writer Mr. Zareef Ahmad Zareef while Shamshad Kralwari & S.Razi were also present in the presidium. In this session four papers were read out respectively by Prof.R.L Talshi,Dr.Shabnam Rafiq, Dr.Iftikhar Ahmad & Azhar Hilal (son of Akhter).
In his concluding remarks Prof. Majrooh Rashid Head Department of Kashmiri thanked the entire participant for their active participation & making the seminar a success.