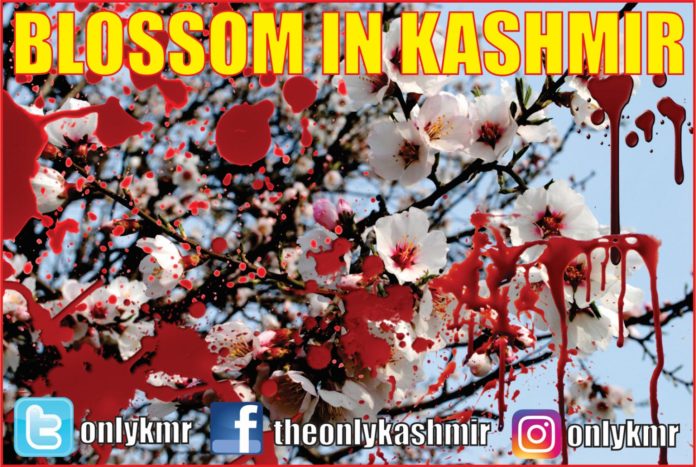 Rameez Makhdoomi
Srinagar, Mar 07 (KNB): Spring is the season of hope and seen everywhere a season that enthuses life into everything. Spring is surely the best season of the year. Most of the people are fond of this season. It is the favorite season of poets.
But in Kashmir once again this season has started on note of sadness with Shopian episode making sad and angry everyone. As on Sunday night, 4th March the parents were happy that tomorrow their kids will get the first day of schooling after long winter break, Kashmir got bruised by a sad news that during a late-night shootout at Shopian in south Kashmir resulted in the killing of two local militants and four civilians traveling in two vehicles. The Army says it retaliated after its check post was fired at from a car, in which the Militants and their associates were killed. Their families and local insist that killed civilians were innocents who had nothing to do with Militancy.



Amid versions and counter versions what was clear that Spring started in Kashmir on deadly note raising fears once again of an unpredictable summer.
"Situation in #Kashmir is extremely grim and fast deteriorating by the day. Thirteen civilians have been brutally killed by forces in the last six weeks alone. Most of these killings have taken place in the Shopian district where eight civilians have been shot dead by armed forces," tweets Hurriyat (M) chairman Mirwaiz Umar Farooq.
Situation in #Kashmir is extremely grim and fast deteriorating by the day.Thirteen civilians have been brutally killed by forces in the last six weeks alone.Most of these killings have taken place in the Shopian district where eight civilians have been shot dead by armed forces.

— Mirwaiz Umar Farooq (@MirwaizKashmir) March 6, 2018

Nasir Khuehami, a Journalist while speaking to the Kashmir News Bureau states -" Throughout the world the season of Spring brings lot of energies and positive things in mind and the beauty of Kashmir too is matchless in Spring but the painful deaths that have taken place in Shopian has filled this spring start with sadness, anger and rage. Hope killings end in Kashmir and we witness once again the hope that is so much linked to spring .This never ending bloodshed should end."
With increasing rage, anger and violence, a common Kashmiri in such circumstance can only pray for the peace to see a blooming spring not only in weather but also in political scenario. (KNB)