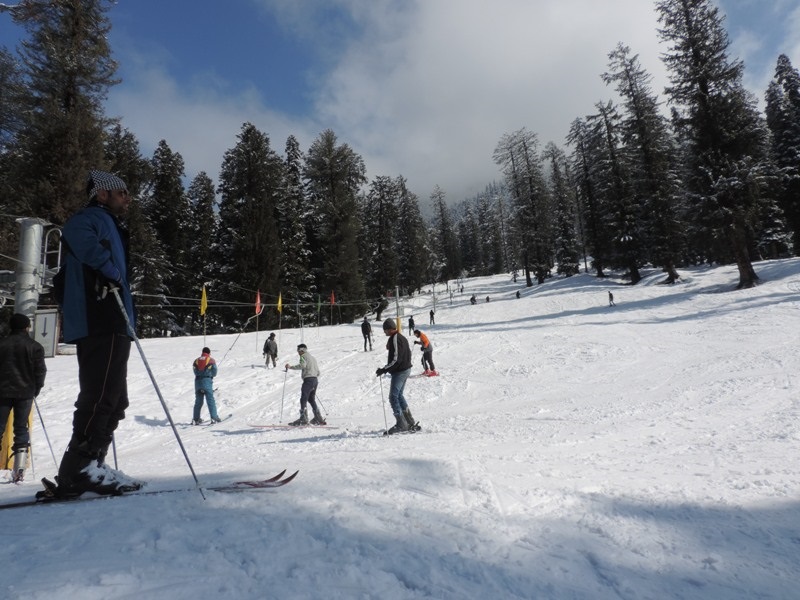 Bilal Bashir Bhat
Srinagar, April 04 (KNB): Despite the grim situation and repeated tensions witnessed on borders, the trouble torn Jammu & Kashmir State was recently declared as the country's safest tourist spot for visitors. The state has seen no crime against tourists in 2015 and 2016 as per the annual data of National Crime Records Bureau (NCRB).
The people of all seasons' tourist destination i.e. Kashmir have always wholeheartedly welcomed the travelers, ignoring the whatsoever prevailing turbulent situations. The hospitality and gesture makes a significant contribution to the economies of the state.
The recent news item carried by a reputed national daily evoked a debate wherein it was said that the tourists were attacked by the stone pelters, the state's man and machinery were quick to rebut it saying there was no such incident reported and retreating the Kashmir was safe destinations for tourists visit.



Taking cognizance of the 'baseless' news report, state Tourism Minister Tassaduq Hussain Mufti urged media houses to report the ground situation responsibly with proper facts and said a small wrong news report has a potential to affect smooth tourists flow to Kashmir and affect the livelihood of lakhs of people associated with sector. The tourism Minister condemned the news report terming it as highly-irresponsible.
Asserting that Jammu and Kashmir is one of the safest tourist destinations in the country, Minister for Public Works Naeem Akhtar urged the visitors to not to pay heed to false reportage and invited them to experience the hospitality and warmth from people of Kashmir.



"When local Kashmiris are being killed, maimed and caged how the state can ensure the safety of the travelers. We as a common Kashmiri have always welcomed the tourists, but at the same time when our life is at stake how can we ensure the safety of the tourists. It is state's responsibility to ensure the safety of their citizens and then of the tourists," said Mir Imran a Human Rights Activist while talking to Kashmir News Bureau.
Mir added it was irony that an outrage was witnesses over the news item regarding the safety of tourists but no steps are being taking to save the precious live of the people of Jammu and Kashmir subjected to worst gross human rights violations from last three decades particularly.



Sheikh Mohammad Imran, a prominent social activist and Businessman from Kashmir Valley, while talking to KNB said that until the host of a country or a state is not safe the guarantee of guests is not possible. He said the safety of the tourists' lies in the resolution of Kashmir issue, adding, yesterday's incident is a minor one. He said even in Palestine there is Tourism Development Authority but what stops a tourist to visit there is a war like situation which quite resembles to Kashmir.
In nutshell, the sane voices in Kashmir are of the opinion until the root cause i.e. Kashmir problem is not addressed there is no guarantee of life and property in Kashmir neither of the locals nor the visitors. (KNB)