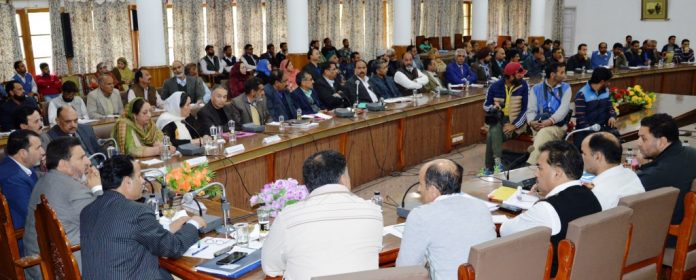 Srinagar, April 22 (Only Kashmir): In a bizarre kind of its development, the Jammu and Kashmir government on Sunday ordered the shutting down of all Coaching Centers in Kashmir following the widespread student protests in the length and breadth of Valley. The decision is being widely opposed by the different shades of life particularly the students.
Jammu and Kashmir Education Minister Syed Altaf Bukhari on Sunday ordered the closure of all private coaching centres in the Kashmir Valley for 90 days, officials said.
Chairing a meeting of officers of his department here on Sunday, Minister for Education, Finance and Labour & Employment, Syed Mohammad Altaf Bukhari today said all those private tuition centers which offer tuitions upto class 12th will be closed for time being and the decision in this regard will be reviewed on fortnightly basis.
"The move is amid in order to remove distractions in and around schools and to put in place a regulatory mechanism for improving the academic environment in the State," the governmnent statement reads.
The move follows spiraling student protests in the Kashmir Valley seeking justice to the Kathua rape and murder victim.
The decision follows the Minister's warning to students to join classes or face the consequence of educational institutions being closed down.



Meanwhile reacting to the move of government the condemnations and oppositions have emerged from several quarters.
Terming the move as harsh and unacceptable, MLA Langate Sheikh Abdul Rasheed said education Minister has always been showing keen interest in bringing the derailed education system back to track but his decision to shut down coaching centers in Kashmir valley seems an action of revenge against the student community who are our future, who were well within their limits to protest against Kuthua incident .
"Now we can prepare for SPEE (Stone Pelting Entrance Exam) instead of CET and AIEEE," reads a Facebook status of an activist Peer Viqar Ul Aslam.

"Students need to mass migrate to the other parts of India for bettercoaching and education. This is nonsense to close down all the coaching centers for 90 days. How does govt achieve educational goals?" says Altaf Bashir.
"Education Minister orders closure of coaching centers for 90 days. Now tell me, is govt going to refund the fees to the students, who had already paid to the coaching centres?," says Yasir Rather.