Srinagar, April 25 (KNB): Women have bore the worst brunt of Kashmir Conflict especially since past thirty years of turmoil. With escalating death toll women as Mother, sister and wife have taken the ultimate hit by losing their near and dear ones in the violent conflict.
With the result stress-related disease has been rising among the women in Kashmir. The Médecins Sans Frontières/Doctors Without Borders (MSF) survey on Kashmir notes these hard statistics: 50 percent of women and 37 percent of men are likely to suffer from depression; 36 percent of women and 21 percent of men have a probable anxiety disorder; and 22 percent of women and 18 percent of men suffer from post-traumatic stress disorder (PTSD).
We meet some who have seen from a very close angle the impacts of violence and conflict in Kashmir.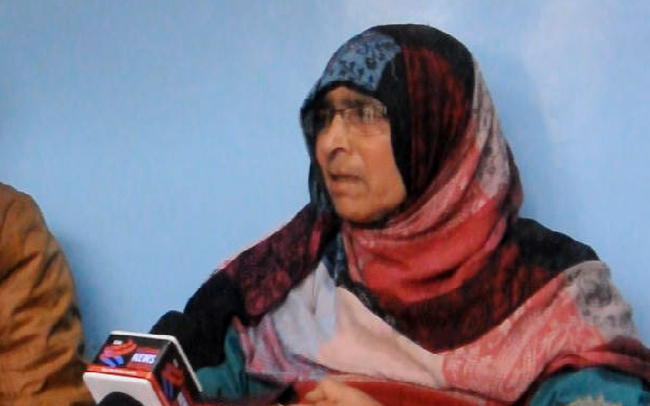 Zoona Begum, Rohama Rafiabad, mother of slain policeman Ghulam Nabi Ahangar (who was killed in militant attack when blast was triggered at Sopore, along with him three other policemen died on 6 January 2018,) is ruined after the death of her son. " The death of my beloved son has shattered me and as you know it takes decades of hard work, affection to raise children and then the monster of violence eats them in no moment. The whole family remembers him as he was a noble soul and hardworking human. He has left behind her besides us a handicapped daughter and grief-struck wife. We appeal to the governments of India and Pakistan to make a compromise over the situation as this bloodbath is not in anyone's interest. Violence is destroying us and we the women happen to be its ultimate sufferers often on account of loss or disappearance of near and dear ones. Women as mother or wife is bearing the worst brunt of this never-ending conflict and time has come when all steps taken to weed out bloodshed from Kashmir should be taken so that glory returns."



In another case , Muhammad Shafi Rah, 35, and Mushtaq Ahmad Rah, 30, from Downtown area of Mahraj Gunj Srinagar were working in Samokshi Nepal in Lather Sector and they stand disappeared since 18 years, after what their families state their arrest by Indian security agencies in year 2000 from Nepal.
Khadijah Rah, the mother of these two disappeared sons , while talking to the Kashmir News Bureau stated – " I have lived every day like hell since my sons have been disappeared. We have visited every corner to seek whereabouts but returned only with fake promises and nothing concrete. Me and my husband are awake till late night talking about our sons and in these years we have got impacted by mental stress and many diseases due to disappearance of our sons . These 18 years have inflicted eighteen million stabs on our heart . We did not get justice anywhere. Our pain is beyond measure as we don't know what happened to our sons . We appeal to humane voices to get conscious about our pain and ensure return of our disappeared sons."
On ground zero, be it rising mental stress or killings, disappearance of dear ones the women of Kashmir is evidently at the receiving end of the Kashmir conflict. (KNB)
Inputs: Rameez Makhdoomi, Bilal Bashir Bhat and Mir Arif