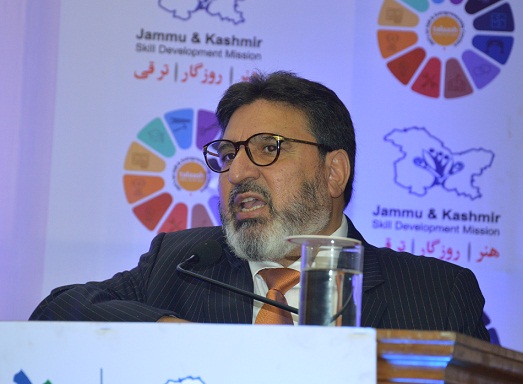 Srinagar, May 13 (Only Kashmir): Terming the artisans of Old City Srinagar (Downtown) as torchbearers who helped Jammu and Kashmir to reach out to the world via exhibiting their skills, Minister for Finance, Labour and Employment Syed Mohammad Altaf Bukhari on Saturday said that skills have no religion and it sans borders.
Speaking at the valedictory function of two-day first ever Skill-Innovation-Entrepreneurship conclave themed as TALAASH concluded here at SKICC, Bukhari said the government will provide all possible help to the artisan community of the State, especially of Downtown who have helped us to reach out to the various parts of the world.



Calling young innovators and artisans' future of tomorrow stated "Our young boys and girls need to excel and we all must come forward to help and help them excel in their respective crafts," he said.
"We should also understand that we are born with some purpose and we must contribute to the best possible way to help our society and community to grow in all respects," he said.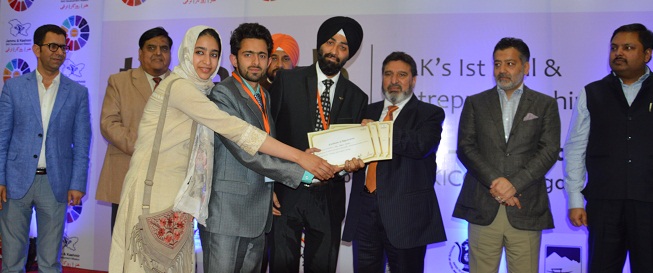 He urged the young innovators to remain steadfast and serve the humanity at large.
"Art and artisans don't belong to any particular community. They are assets of the humanity," he said.
"We must be proud of our crafts and craftsmen. We have some remarkable art forms and we must be happy to celebrate them," he added. Bukhari also lauded the role the role of Jammu and Kashmir Skill Development Mission (JKSDM) for roping in young innovators and providing them a platform.
The maiden conclave TALAASH was themed as "Building Human Capital: Skill-Innovation-Entrepreneurship".
The first ever Skill-Innovation-Entrepreneurship conclave themed as TALAASH, was aimed at engaging different stakeholders in skill building, entrepreneurship and grassroots innovations.