Srinagar, May 14 (Only Kashmir): A concluding event marking the culmination of Film Appreciation Course viz-a-viz 'Foundation Course in Still Photography' and 'Course in Screenplay Writing' organized by FTII Pune and DIPR J&K was held at Media Complex Auditorium, Polo View, here today.
Advisor to Chief Minister, Prof. Amitabh Mattoo was the Chief Guest on the occasion while Director FTII Pune, Bhupendra Kainthola was the Guest of Honor.
Managing Director JKPDC, Dr Shah Faesal, Deputy Director News Radio Kashmir Srinagar M ATantray, Course Director Screenplay Writing Vadahi Sanchati, Course Director Digital Photography Bharat Kanaray, faculty member FTII Faheem Mulla, Editor Kashmir University, Muslim Jan, University Teachers, media professionals, filmmakers, artists besides students and their parents were present on the occasion.



As part of the event, Certificates Distribution Ceremony was also held for the students who underwent these innovative courses organized to introduce the interested local youth to the craft and nuances of film making.
The event was marked by presentation of short films and photographic works created by participants during the said courses.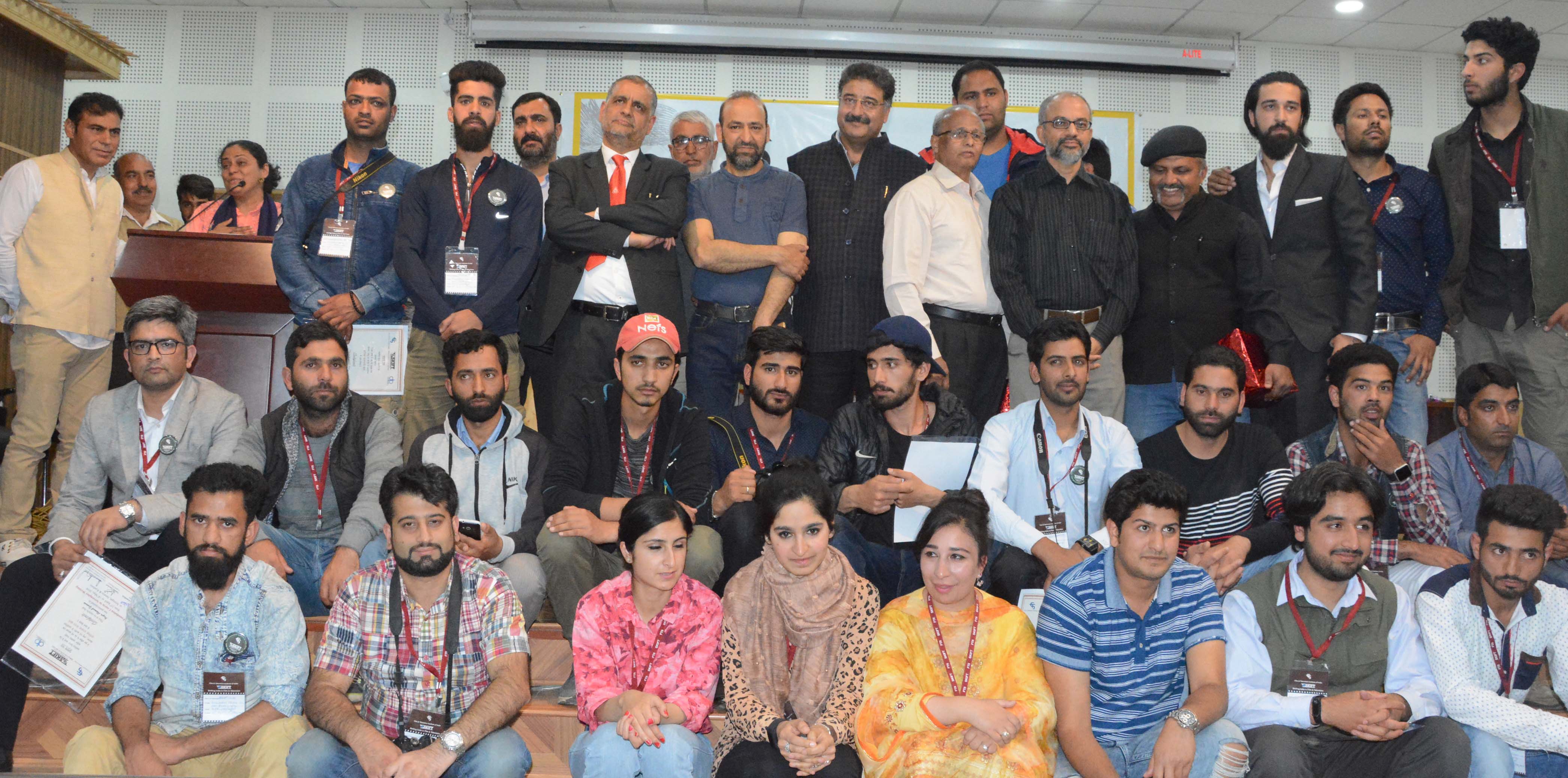 Speaking on the occasion, Prof Mattoo appreciated the joint efforts by DIPR and FTII in organizing these courses in all regions of the state. He hoped that such courses will bring about a renaissance in film making craft in the region. He congratulated the participants for successfully completing the courses and asked both the institutions to carry forward the mission.
Addressing the participants, Prof. Mattoo assured every possible help from the state government to the DIPR in providing opportunities for skill development of youth of the state in the media.
Director FTII Pune, Bhupendra Kainthola said that the response for these courses in the state has been phenomenal. He said that looking at the enthusiasm regarding the craft in the state, FTII in coordination with DIPR and other state institutions will increase its outreach in the state and organize many such courses.
Director Information, Muneer-ul-Islam while addressing the students advised them on taking full advantage of these opportunities being made available for them in their home turf.



'Better you put your stories in your own words, rather than letting others present your stories for you', he advised the students.
He said that efforts are underway to organize additional allied courses in the state and DIPR will be in the forefront for revival of this industry in the region.
The participants underwent training under these courses also shared their experiences and hoped that such opportunities will be provided to the young aspirants of the state in future too. (OK)