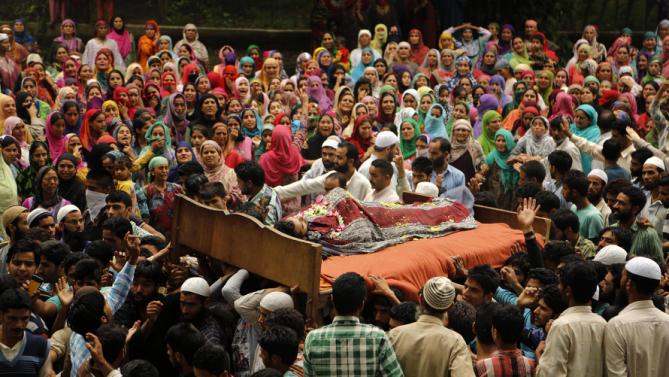 New Delhi, May 30 (Only Kashmir/Agencies): Highlighting the improvement in internal and external security under the Narendra Modi government, Union Home Minister Rajnath Singh on Tuesday said that a total of 619 militants in Jammu and Kashmir had been killed in gun battles with government forces, adding, the number of terrorists killed in the previous UPA-II government was 471.
He also clarified that the operations against militants had not been stopped during the holy month of Ramzan but had just been suspended. "It is not a ceasefire but a temporary suspension of operations," he said, adding that the army is free to respond to any attack.
"There has been no compromise on the unity and integrity of the nation and we are proactively pursuing operations against the terrorist groups and subversive elements," Singh added, but did not respond to a query on how many security personnel were killed in this period.
He however said that respecting the supreme sacrifice of the security personnel in the line of duty for the nation, the Union Government had scaled up the ex-gratia sum from Rs 50 lakh to Rs one crore for their families.
Rajnath Singh also said that incursions had also decreased during the four years of the Modi government and it had come down by 85 per cent in the northeast.
Compared to a high of 2,418 Maoist incidents under the UPA regime, only 1,481 incidents have taken place in the NDA rule, he said. "In 2013, Maoists were active in 76 districts but there area of influence and operations has shrunk to 58 districts in the last four years," he added.
He also said that to secure the country's boundaries, a new border security system was being started under which LED lights would be installed along with new technique radars on the borders.
Inputs: TOI