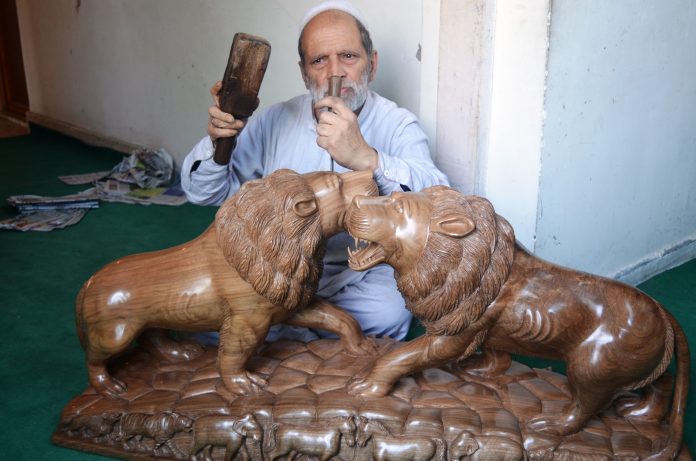 Srinagar, June 01 (KNB): On 1st June, 2017 Kashmir's rich art lost its great hand when Abdul Ahad Muran, a renowned walnut woodcarving artist passed away at the age of 61 after successfully upholding the long tradition of woodcarving of his family dating back to the middle of the 17th century.
Hailing from Downtown Srinagar carrying the legacy of their family as members of third generation the two brothers Abdul Ahad Muran and Muhammad Yousuf Muran never let their disabilities to come in the way of becoming one of the most talented woodcarvers whose creations have made it to the prestigious global markets. Abdul Ahad was deaf and Mohammad Yusuf is mute. Their work has been recognized internationally and got only getting better and better with time.



The woodwork of Muran brothers spoke for itself and was of par excellent nature. Ranging From living animals to those extinct, from Greek Gods to Hindu mythological figures they have carved them all. They have even made carvings of Mahatma Gandhi and Saddam Husain. They made replica of Jamia Masid in Kashmir which was presented to Iranian Ambassador. The two were masters at conceiving and executing the art on walnut wood blocks and sheets with great ease and accuracy.
Pertinently, the Muran family has a long tradition of woodcarving dating back to the middle of the 17th century. Arts and crafts have always played an important part in the life of the Mr. Gulam Muhammad Muran's father who was prominent manufacturer of this craft in Peshawar Karachi (before partition). As such Gulam Muhammad Muran became familiar with the skills of woodworking from an early age. After moving from Karachi to Srinagar through silk route, during which he developed great enthusiasm for this craft, set up his own business in 1906 in Srinagar. Thanks to his dedication and hard work, the business quickly grew and soon made a name for it carried forwarded by his two sons Muhammad Yousuf Muran and Abdul Ahad Muran and now young dynamic and energetic Mudasir Muran.


Due to the successful development of the business, in 2015 Mudasir Muran the young face of the fourth generation of Muran's family decided to involve his family craft to the next level of digital world besides setting up a showroom named 'Paradise Wood House.'
Mudasir Muran, who owns Paradise Wood house states – "It is a great personnel loss to me and with tearful eyes I remember my late father who was a legend artist with virtually golden hands. Both my late father and uncle being passionate lovers of wildlife kept watching Animal planet on TV and afterwards they made craving of animals they see on it from walnut logs. It has been year since he left us and it is virtually impossible to fill his void both as great father and wonderful artist."
Mudasir Muran sells the 'exclusive' items produced by his father and uncle at a showroom just outside Srinagar. The items a big hit with locals and tourists alike.
Pertinently, sometime back they had created a replica of Hangul; an endangered species of deer in Kashmir for free for a USA based NGO which had to run campaign to save extinct animals. In 2013 the duo had made a model of Kashmiri houseboat that was showcased at Mumbai airport. This model received huge appreciation from locals and foreigners.
Kashmir certainly is missing Abdul Ahad Muran on his first death anniversary but his contribution in the field of Kashmir's Art has made him live forever. (KNB)