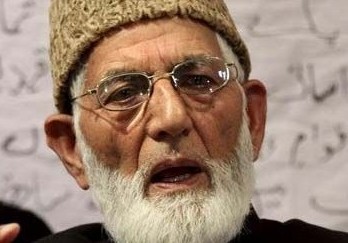 Srinagar, June 04 (KNB): Expressing solidarity with the Sikh community on the anniversary of the notorious "Operation Blue Star", Hurriyat Conference (G) chairman, Syed Ali Geelani has said that the wounds inflicted on this minority by Indian military might 34 years ago are not only fresh, but continue to painful and agonizing for our Sikh brothers.



He said that so-called world's largest democracy has never tolerated the existence of minorities. Muslims, Sikhs, Dalits and Christians continue to be harassed, killed and humiliated in length and breadth of India.
He said that operation Blue Star was a brutal and brazen massacre, where hundreds of Sikhs were butchered mercilessly in a span of just a few days. Hurriyat Chairman said that minorities were never safe in India and every regime, be it Secular clad Congress or Hyper nationalist Hindutwa Parcharks, Saforn Brigade, all pushed them to wall.



He cautioned the rulers in India that the deprivation and ill-treatment meted out to the minorities is not good omen for so-called democratic fabric of India.
Recalling the unfortunate and arrogant show of muscle power in 1984, Hurriyat chairman said that these tragic incidents can never weaken the resolve for basic and fundamental rights of the oppressed people and those fighting for their sacred cause get encouraged and empowered by such undemocratic and unethical actions.
He further said that we share the pain and agony of our Sikh brothers as we too are the worst sufferers of this Indian hegemony, for last 7 decades.