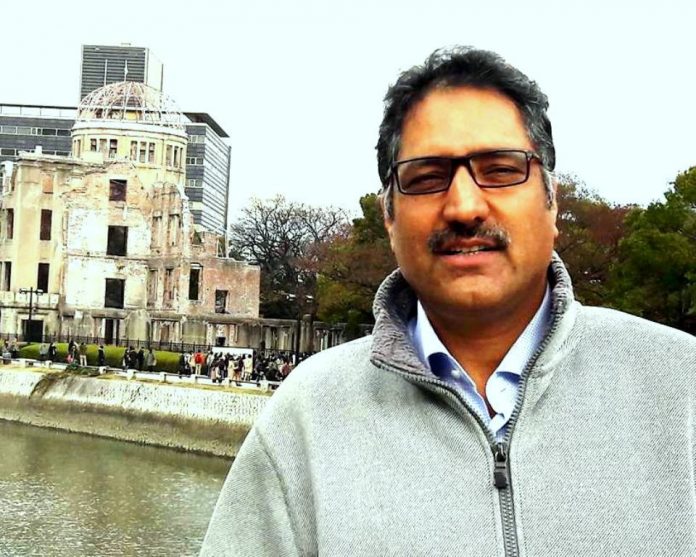 Only Kashmir News Desk
Srinagar, Jun 15 (Only Kashmir): The doyen of journalism in Kashmir Syed Shujat Bukhari was shot dead by unknown gunmen on Thursday at Srinagar's Press Enclave. Besides Bukhari two of his Security guards were also killed in the deadly attack that evoked widespread condemnations.
Bukhari (50) was currently holding the charge of Chief Editor's post at daily Rising Kashmir, Urdu daily Buland Kashmir and Kashmir daily Sangarmal, he faced the indiscriminate firing by unknown gunmen at Press Enclave at around 7 pm soon after he stepped out of his office and boarded his vehicle along with two PSOs who also got killed in the attack.



The killing of Shujat Bukhari evoked a widespread condemnation. Among other prominent personalities Home Minister of India Rajnath Singh, Pakistan Foreign Office Spokesman Dr Mohammad Faisal, Indian National Congress President Rahul Gandhi, Amnesty India, Chief Ministers of several states of India, J&K Governor and Chief Ministers, Pro-Freedom leaders Syed Ali Geelani, Mirwaiz Umar Farooq, Muhammad Yasin Malik, BJP General Secretary Ram Madhav, Human Rights Activists and thousands of netizens expressed anguish over the killing of Bukhari.
Militant outfit Lashkar-e-Taiba strongly condemned the killing of Shujaat and blamed "Indian" agencies.
Shujaat is survived by his wife, a son and a daughter. He happens younger brother of state cabinet minister Basharat Bukhari. Shujaat has the credit to attend several international conferences in many parts of the world.



Jammu Kashmir Editors Forum (JKEF), Kashmir Editors Guild (KEG), Jammu and Kashmir Young Journalists Association (JKYJA) and Broadcast & Multimedia Journalist Association (BMJA) in separate statements condemned the killing of Bukhari.
The Onlykashmir[dot]in mourns the death of Shujaat Bukhari, prays for his eternal peace and forbearance to the bereaved family and Rising Kashmir office bearers.