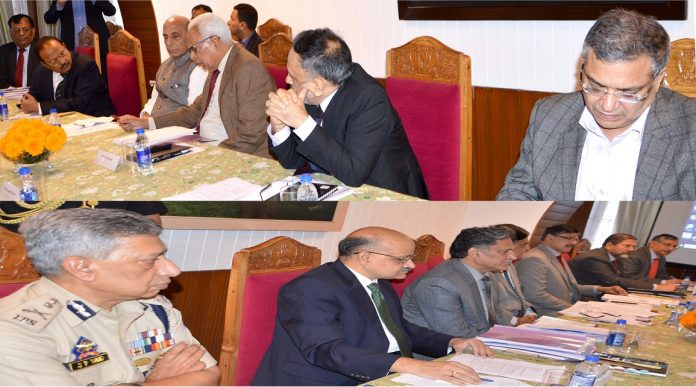 Srinagar, July 5 (Only Kashmir): Rajnath Singh, Union Home Minister held extended discussions with Governor N.N. Vohra to review security management, Yatra management, implementation of development programmes and governance issues in a meeting held at Raj Bhavan here today.
The meeting was attended by Ajit Doval, National Security Advisor; Sh. Rajiv Gauba, Union Home Secretary; the three Advisors to Governor, Sh. B.B. Vyas, Sh. K. Vijay Kumar and Sh. Khurshid Ganai; Sh. B.V.R. Subrahmanyam, Chief Secretary; Dr. S.P. Vaid, Director General of Police; Sh. Umang Narula, Principal Secretary to Governor and CEO, Shrine Board; and Sh. R.K. Goyal, Principal Secretary Home.
The Home Minister was informed by Advisor Sh. K. Vijay Kumar about the overall law and order situation and framework put in place by the Security Forces for the ongoing Shri Amarnathji Yatra.
Chief Secretary presented an update of the implementation status of major projects under the Prime Minister's Development Programme, particularly AIIMS, IITs & IIMs, Ring Roads at Jammu & Srinagar and other major development projects being executed by Central and State agencies.
Governor assured Home Minister that the State Administration is taking every step required to ensure against any delay in the implementation of development and welfare programmes, eradication of corruption; and redressal of public grievances.
Union Home Minister Rajnath Singh issued a series of tweets after reviewing security scenario in Kashmir Valley.
Singh in a series of tweets assured people of Jammu and Kashmir that he is committed to take all possible measures to bring accountability and transparency in the system. His tweets came after the serious allegations of corruption being leveled by disgruntled PDP leaders and some BJP members during Mehbooba led government.
"Reviewed the situation in Jammu and Kashmir and discussed the way forward at a meeting with the Governor and state administration in Srinagar,"
"Development and good governance had remained elusive for the common people of Jammu and Kashmir," he said. "We are committed to take all possible measures that will bring accountability, transparency and good governance in the system," Singh tweeted.
"With renewed focus on good governance and development the Centre is looking forward to kindle new aspirations and hopes amongst the people of the State."
In another tweet Rajnath said: "The solution to problems lies in empowerment of the people and strengthening the institutions of local self governance,"
"The dream of a developed and prosperous Jammu and Kashmir will be realised when there is peace and normalcy in the state," he added. "It is our firm resolve to bring peace, stability and prosperity through an honest, effective and efficient administration for the problems facing the state," he concluded.
The Home Minister left back for New Delhi this afternoon.