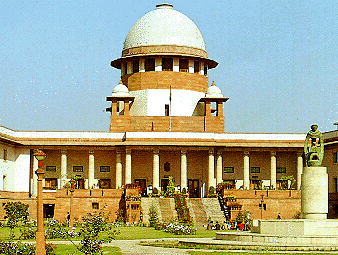 Wahid Bhat
Srinagar, Aug 31 (Only Kashmir): The Supreme Court on Friday deferred till January 19, 2019 hearing over the constitutional validity of the contentious Article 35A, which empowers the Jammu and Kashmir's legislature to define "permanent residents" of the state and provide special rights and privileges to them.
ASG Tushar Mehta representing Jammu and Kashmir submitted before a three-judge constitutional bench cited law and order issue and said, "All the security agencies are engaged in the preparation of the local body elections in the state."
While Attorney General KK Venugopal appearing for Centre told the Apex Court ," Let local body elections finish in a peaceful manner." The provisions Article 35-A of the Constitution bars Indian citizens, other than those who are permanent residents of J&K, from seeking employment, settling in the state, purchasing land or house in the state.
The petitions have sought to quash the Article 35A, which confers special status to permanent residents of Jammu and Kashmir.
Justice Chandrachud remarked that the Court would not want to "precipitate the matter" ahead of elections after ASG Tushar Mehta, arguing for the State of Jammu and Kashmir, told the Court that the elections will be held in phases and are scheduled to end in December.



The battery of lawyers appearing for various parties broke out in a hurry to make submissions on merits of the case, when CJI Dipak Misra asked, "The Article (35A) was inserted in 1954 and you are approaching the Court after 60 years. What is the hurry now?"
Senior Counsel Ranjit Kumar tried to reason with the Court saying that the question of entry of women to Sabarimala temple was also taken up by the Court now, though the practice has been going on for 300 years.
"That question was not about a Constitutional amendment", CJI Misra responded. The State of Jammu & Kashmir had earlier circulated a letter praying for the adjournment of this matter. Today, the Court has fixed the hearing for January next year, keeping in mind the security situation in the State.
Article 35A was added to the Indian Constitution in 1954 as part of the deal between the Maharaja of Kashmir, Hari Singh, and the republic of India to protect the privileges of Kashmiri residents.
Article 35A is a provision incorporated in the Constitution giving the Jammu and Kashmir Legislature a carte blanche to decide who all are 'permanent residents' of the State and confer on them special rights and privileges in public sector jobs, acquisition of property in the State, scholarships and other public aid and welfare.