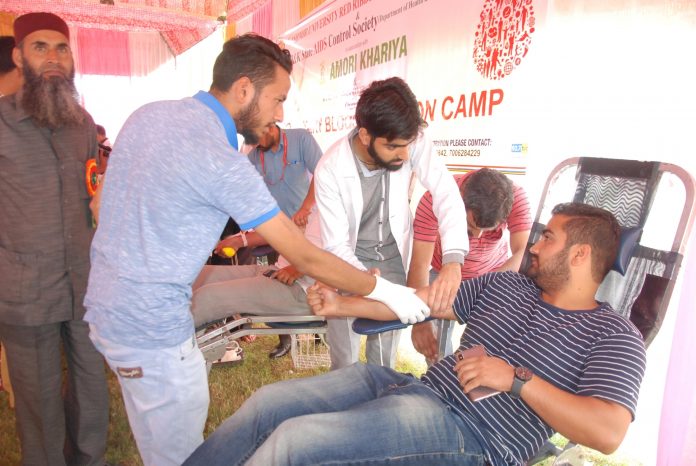 Srinagar, Sept 08 (Only Kashmir): Red Ribbon Club, Dept of Students Welfare (DSW), University of Kashmir & J&K State AIDS Control Society, Dept of Health &Medical Education J&K Govt. in association with AMORI KHARIYA (NGO) & KU Health Centre today organized a one-day 'Voluntary Blood Donation Camp' at Kashmir University.
Dean College Development Council (DCDC) and Registrar KU Prof Neelofar Khan inaugurated the day-long camp which was held in the lawns of Gandhi Bhawan.
Appreciating students and volunteers for donating their blood, Prof Neelofar Khan said "Such activities shape up the outlook of youth and inculcate the spirit of social activism among them, and engaging with youth at various levels is the foremost priority of the University."
Interacting with the donors on the occasion Dean Students Welfare KU Prof G N Khaki said that the main purpose of any education system should be the enlightenment of youth and endeavors like blood donation camps form the bedrock of such enlightenment.
Student volunteers and employees from different departments of Kashmir University and voluntary donors from outside the university participated in the day-long blood donation camp.
Project Director J&K State AIDS Control Society Dr Mushtaq Ahmad Rather, Assistant Director Youth Affairs Mr Rajesh, Chief Proctor KU Prof Naseer Iqbal, Dr. Khalid, Chief Medical Officer KU, Coordinator Red Ribbon Club KU, Mr Shahid Ali Khan, Liaison Officer PRC KU Mr Ozair Nissar and Liaison Officer DSW KU Mrs Nasia Naqash and representatives from AMORI KHARIYA were also present on the occasion.