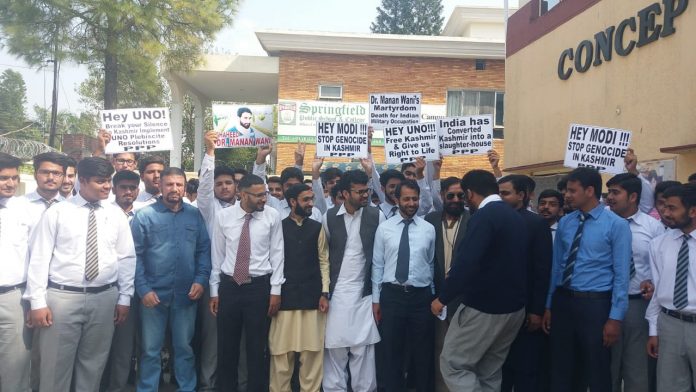 Srinagar, Oct 15 (Only Kashmir): People's Political Party (PPP) leader and Chief of Party's Pakistan Administrated Kashmir (PaK) Mian Muzaffar Shah Monday staged a protest in Rawalpindi, Islamabad –Pakistan against use of military force in Kashmir. Besides others, the protest saw the participation of professors, lecturers, college students, and PPP activists.



Speaking with media on the occasion, the PPP leader, Mian Muzaffar Ahmad Shah paid glowing tributes to Dr. Manan Wani and asked Prime Minister of India Narendra Modi to stop 'genocide' in Kashmir. He expressed his anguish and concern over the brutal killings of Kashmiri Muslims day in and day out.
The protesters holding banners and play-cards reads "Break the Silence, Implement UN Plebiscite Resolutions on Kashmir", "Hey UNO ! Free Kashmir, Give us Right to Life", and to Modi, "Hey Modi- Stop genocide in Kashmir."
PPP leader pledged that the struggle of right to self-determination will continue and people of Jammu and Kashmir will fight it tooth and nail.
Besides, Mian Muzaffar several other dignitaries also spoke on the occasion.