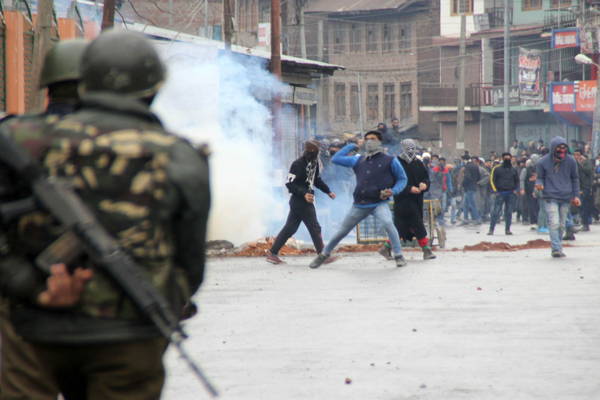 Srinagar, Oct 17 (Only Kashmir): Two armed youth belonging to militant outfit Lashkar-e-Toiba were killed on Wednesday morning following an encounter between them and government forces broke out in Fathe Kadal area of Downtown Srinagar Kashmir.
According to the Police statement, on a specific input regarding the presence of militants in Syed Ali Akbar area of Fatehkadal, a cordon and search operation was laid by JKP and CRPF personnel during which militants made indiscriminate firing from inside.
In the ensuing gunfight, constable Kamal Kishore of JKP was killed while two JKP and CRPF personnel also received injuries.
The slain militants were identified as Mehraj-ud-Din Bangroo, Fahad Mushtaq Waza. The other who was killed in shootout has been identified as Rayees Ahmad (the son of the owner of house where militants were hiding).
Police said incriminating materials including arms & ammunition were recovered from the site of encounter and has registered a case in this regard and investigation has been initiated.



Joint Resistance Leadership (JRL) comprising Syed Ali Geelani, Mirwaiz Umar Farooq and Mohammad Yasin Malik expressed deep anguish and grief at the killing of son of the house owner young Rayees Ahmed and two armed youth Mehraj ud Din Bangroo and Faid Mushtaq Waza in Fateh Kadal today morning by the Indian forces, razing down of the house and damaging others around it and the cardiac arrest suffered by the owner of the house due to the forces action.
"All space to peacefully and democratically resist this oppression has been completely chocked. Protest shut downs are only means left to us to resist the state onslaught and show our resilience to it. JRL said that people will observe a protest shutdown tomorrow 18 October against the atrocities being inflicted on people including gruesome killings, arbitrary arrests and PSAs, destruction of homes, harassment of students attack on journalists and all other measures of repression," the JRL statement reads.