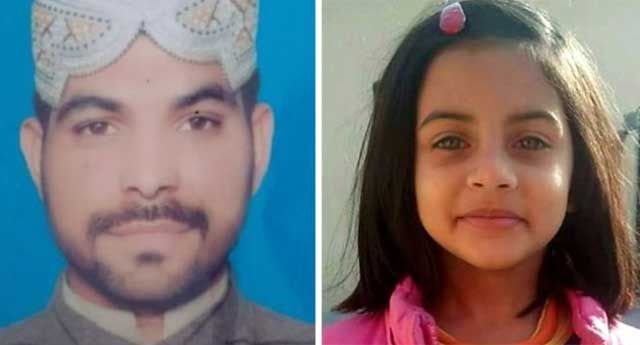 Islamabad, Oct 17 (Only Kashmir): Imran Ali, who was convicted for the rape and murder of six-year-old Zainab Amin in Kasur earlier this year, was hanged to death in the early hours of Wednesday in Lahore's Kot Lakhpat Central Jail.
Ali was executed in the presence of both Magistrate Adil Sarwar and the deceased's father, Muhammad Amin Ansari, both of whom arrived early morning at the Kot Lakhpat Jail. Zainab's uncle was also present at Kot Lakhpat.
"Imran was taken to the gallows just before dawn and he has been hanged with a rope in the presence of magistrate and a doctor," local police official Mohammad Afzal said.
An ambulance had also arrived at the scene, accompanied by a brother of the convict as well as two of his friends. A medical officer as well as Kot Lakhpat's superintendent were in the jail as well.
Contingents of police and anti-riot forces surrounded Kot Lakhpat jail at the time of Ali's hanging.



Talking to the media after the execution, Ansari regretted that the authorities did not allow the live telecast of the hanging.
"Zainab would have been seven years, two months old today," he said. "Her mother is devastated from grief."
Ansari also thanked the chief justice of Pakistan and said that the "murderer had met his fate today".
After the execution, Ali's family — accompanied by police contingents — took his body to Kasur. He was expected to be buried later today.
Late on Tuesday evening, jail authorities had arranged a last meeting of some 57 relatives with the death row prisoner.
Zainab's rape and murder ─ the 12th such incident to occur within a 10 kilometre radius in Kasur in one year ─ had sparked outrage and protests across the country following the recovery of the child's body from a trash heap a week after she went missing.
The heinous nature of the crime had seen immediate riots break out in Kasur — in which two people were killed — while #JusticeforZainab became a rallying cry for an end to violence against children.