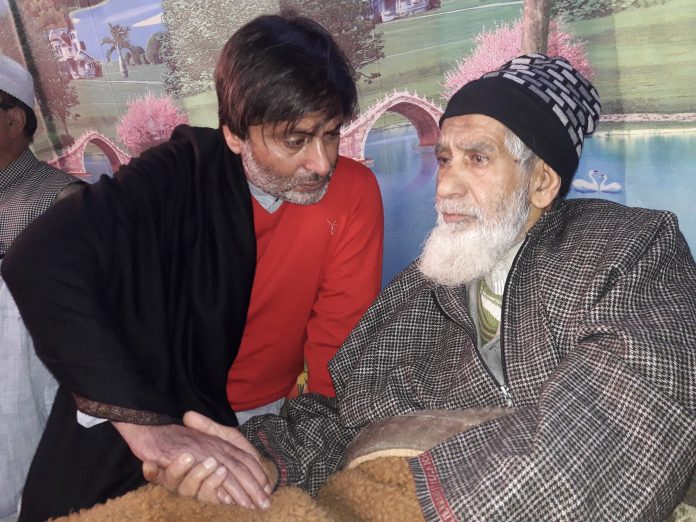 Srinagar, Oct 20 (Only Kashmir): Soon after their release from 20 days arrest JKLF Chairman Muhammad Yasin Malik, Peoples Political Party (PPP) Chairman Engineer Hilal Ahmad War and JKLF (H) Chairman Javaid Ahmad Mir along with their party workers and activists visited Saturday the three slain youths residences at Fatah Kadal Srinagar to express sympathies and solidarity with the bereaved families.
Pertinently, three youth which includes a civilian Rayees Ahmad and two armed youth Mehraj Ud Din Bangroo and Fahad Waza were killed on 17th October in a gunfight at Fatah Kadal Srinagar.



"Soon after his release, JKLF chairman Muhammad Yasin along with a delegation visited Feteh Kadal and Khanyar Srinagar and expressed condolences to the families of recent martyrs Meraj ud din Bangroo, Fahad Mushtaq Waza and Raies Ahmad Sofi. JKLF chairman met with the bereaved families and said that sacrifices rendered by Kashmiri youth and their families will never go waste. The kith and kin of innocent martyr Raies Ahmad Sofi told Yasin sahib that Shaheed Raies was taken into custody by police SOG, tortured severely and then killed in custody in cold blood by blood thirsty forces. On the occasion JKLF chairman while condemning the ongoing genocide of Kashmiris by colonial Indian forces, SOG and police said that blood of Kashmiris is being ruthlessly spilled by so-called biggest democracy which is highly condemnable," reads a JKLF statement.
Meanwhile, Hurriyat Conference Senior leader and People's Political Party (PPP) Chairman, Engineer Hilal Ahmad War and JKLF (H) Chief Javed Ahmad Mir visited the residence of the slain commander Mehrajudin Bangroo immediately after they were released from police custody to express solidarity with the bereaved family and pay tribute to martyrs of Fateh Kadal. War was lodged in PS Maisuma while as Mir was lodged in PS Kothibagh. Engineer Hilal War was released after a detention of 13 days and Mir after 15 days. War and other resistance leaders were arrested as a precautionary measure in view of the recently concluded 'so-called' civic polls.
Both the senior resistance leaders paid rich tributes to the slain commander, his associate and a civilian killed in the encounter.
"We salute these martyrs who have been watering our pious cause with their blood," said War. Mir also paid glowing tributes to the martyrs. "Nation will remain indebted to them," said Mir.