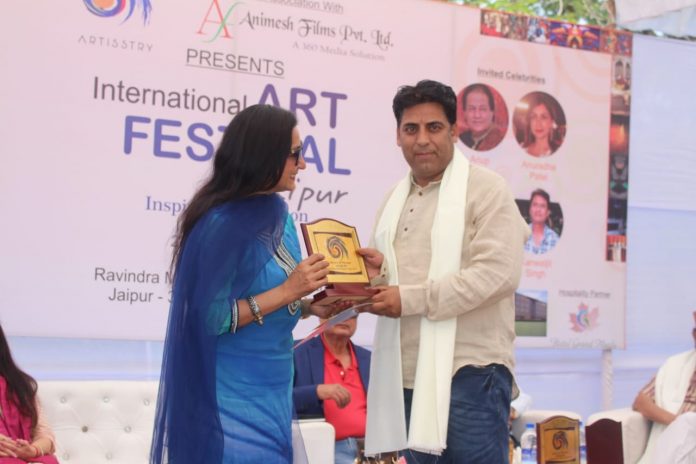 Srinagar, Oct 24 (Only Kashmir): Kashmir based artist Arshad Sualeh has been conferred with prestigious master award of honour in the International Art Festival. organised by team Artistry International. He bagged the award for his outstanding work and lifetime experience.
The award was given to Arshad Sualeh during the International Art Festival organised by team Artistry International at Ravindra Munch Gallery, Jaipur. The award was presented to Sualeh by Bollywood actors Anuradha Patel and Kanwaljeet Singh.



The art exhibition was held at Ravindra Munch Gallery, Jaipur. It comprised of hundreds of painting exhibited by different artists from across the world. Hundreds of art lovers, including top officials and eminent artists, were present on the occasion.
Pertinently, International Art Festival provided great opportunity for young budding talents to rub their shoulders with master artist across the world. This wonderful initiative was taken by Artissrty(Group of Masters) and Animesh Films Pvt. Ltd.(A Renowned Media and Film Production company) This International Art Festival showcased Master paintings, Art work by renowned painters/sculpture artist of the world.
Meanwhile, Inspire Me and Civil Society for Justice and Development (CSJD) trustees including Mushtaq ul haq Ahmad Sikander, Tauseef Mir and Bilal Bashir Bhat have congratulated Arshid Sauleh for this award and wished him success in his future endeavors.