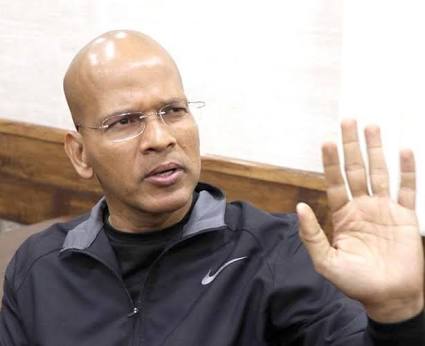 Bilal Bashir Bhat
Srinagar, Nov 14 (Only Kashmir): With netizens expressing dismay over the transfer of erstwhile Inspector General Traffic Basant Rath the political pundits suggest that not only the tiff with Mayor Junaid Mattu was reason for his replacement but the former's unflinching love towards the Pakistan Cricket players was also a cause.
Known for his positive 'rowdyism' against the traffic rule violators, Basant Rath maidenly had managed to gain fans in trouble torn Kashmir Valley. He was removed from the post and attached to the office of Commandant General, Home Guards, Civil Defence and State Disaster Rescue Force (SDRF) till further orders days after he entered into a war of words with newly elected Srinagar Mayor Junaid Mattu over traffic management in Srinagar city.
Soon after assuming charge as Srinagar Mayor, Mattu in a Twitter post said that he has spoken to the SP Traffic (Urban) and sought a review of traffic diversions and plans. Rath had hit back with a "not your domain" tweet, which trigged the controversy. Rath had earlier made an indirect reference to Mattu, calling him a "cabbage."



Well, days after the digital war between the two popular faces of Kashmir, the 2000 batch IPS officer Rath was removed from his post amid lot of speculations. It was not first time that Rath landed in controversy but on several occasions in past too.
On March 22, Basant Rath turned red-faced after he unknowingly posted a photo on social media showing a police vehicle towing by the Traffic police crane Police with a caption "equality before Law ladies and gentlemen," though the photo evoked a good response from netizens, however, later it turns a hoax after Police clarified that the Vehicle was towed by Traffic department on request of a local police station.
In July this year a video has gone viral on Social media where Rath was seen slapping a person outside Pratab Park Srinagar which evoked criticism on Social Media.
Pertinently, members of All J&K Transport Welfare Association in March this year alleged Basant Rath of harassment to public transport drivers/ conductors.
Although, these are expected situations a top level official can face while trying to change the messed system. However, the main reason of his removal is considered his unflinching love towards the Pakistan Cricket players.
Nine months earlier at the time of his joining duties in Kashmir Valley Rath had Tweeted about his mission to improve traffic in "ninety days", saying he is Shoaib Akhtar "not Venkatesh Prasad", as far as the pace of his work goes.
More recently, again expressing love and affection towards the Pakistan players, he asked Indian Cricket team captain Virat Kohli to restrict his cricket patriotism to himself and don't ask others to leave India. Rath also cited he is a fan of Javed Miandad but that doesn't mean he should leave India. Meanwhile, he also made a satire on Virat Kohli's advertisement contracts as well.
"Dear Virat Kohli, I love Javed Miandad. You please keep your cricket patriotism to yourself. And to your advertisement contracts," Rath wrote on his Twitter handle.
A political observer while talking to Onlykashmir[dot]in on the basis of anonymity stated that think tanks in BJP cadre have expressed anguish over the statements of Rath from last few weeks and the tiff with Mayor was seen as the appropriate time to remove Rath from his post.