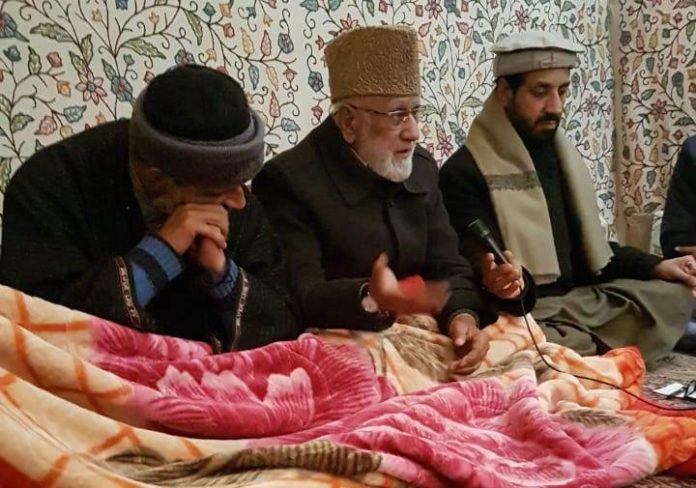 Srinagar, Dec 01 (Only Kashmir): People from different shades and walks of life including top-notch political leaders, activists, seminaries, civil society members and others dignitaries in personal capacity throng the residence of Tehreek-e-Mazhamat Chairman Bilal Siddiqui to condole sad demise of his aunt who passed away or heavenly abode two days before.
The deceased happened mother of a prominent writer and Journalist Shafi Naqeeb and grant mother of social activist and lawyer Khaksar Naqeeb Adnan.
Prayers in favour of the departed soul were held throughout the day. The visitors termed that the deceased lady lived an exemplary pious, generous and spiritual life.



Prominent among the visitors including Tehreek-e-Hurriyat Cheif Mohamad Ashraf Sehrai, Ameer Hamza, District President Rafiq Owaisi, Mohammed Ashraf Laya, Tehreek e Muzahamat General Secretary Saleem Zargar , Spokesman Shiekh Musiab, Salvation Movement Chairman Zaffar Akbar Bhat, Mufti Mudasir Ashrafi, Chairman Tehreek e Karwan e Khatminubvat , Muslim League Secretary Fayaz Sibtain, Bilal Ahmed, Muslim League Spokesman Rafiq Ganie, Abdul Aziz Gojree, Advocate GN Shaheen, Moulana Imitiyaz Salafi, Islamic Political Party Chairman Mohammed Yousuf Naqash. People's League one of the factions Chairman Mohammed Yaseen Attaie , Muslim Conference one of the factions Chairman Manzoor Ghazi, Democratic Political Movement General Sectary Firdous Shah , Jamat e Islamia Senior Member Muzzafar Ahmed Jan, General Moosa, Dr Nayeem Geelani, Journalist Abid Ahmad, Shabir Ahmed Rather, Journalist Fazil Qayoom, Democratic freedom Movement Sheikh Zameer, Advocate Babar Qadri , Pervez Zargar. Adv Asif Nabi, Abdul Rouf Khan of Voice of Victims and Raees Ahmed.
Onlykashmir[dot]in prays for the departed soul and extends sympathy and solidarity with the bereaved family.