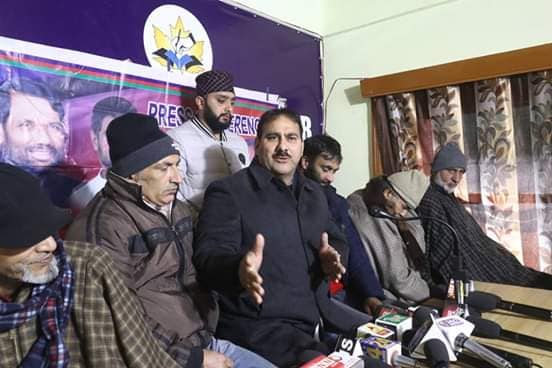 Srinagar, Dec 06 (Only Kashmir): A maiden Press Conference which was Thursday held at Kashmir Press Club "Aiwan-e-Shafat" at Polo View Srinagar was addressed by Kashmir Pandit leader and Lok Janshakti Party (LJP) national spokesperson Sanjay Saraf during which he pledged to safeguard the financial autonomy of J&K Bank what he said 'at any cost.'



"The financial autonomy of J&K Bank should be preserved as emotions of the people of the state are associated with it. The bank was an autonomous institution and it should remain so. Even though bringing it under the ambit of the Right to Information Act will improve accountability, 19 PSUs in the state have become white elephants and are running into losses. Instead of wasting time in converting J&K Bank into a PSU, the government should strengthen the existing public sector units," Saraf said.
The press conference was conducted in the backdrop of the State Administrative Council meeting chaired by Governor Satya Pal Malik on November 23 that decided to turn J&K Bank Ltd into a PSU.
Pertinently, a number of protests were held in Srinagar by J&K Bank employees against the State Administrative Council decision to turn J&K Bank Ltd into a PSU.