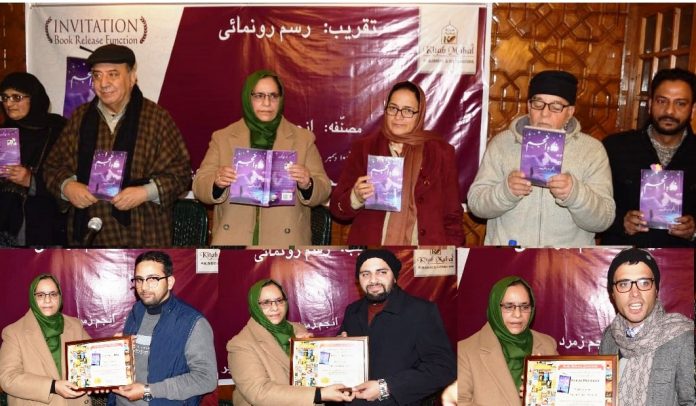 Only Kashmir News Desk
Srinagar, Dec 10: On the eve of International Human Rights Day, a function was organized by Valley's prominent publishing house 'Kitab Mahal' during which autobiography of senior pro-freedom leader Anjum Zamrooda Habib titled "Nigah-e-Anjum" was released in presence of a several prominent personalities including writers, academicians, poets, political leaders, journalists and activists.
The function was held at Shahenshah hotel Srinagar and was addressed by several dignitaries including Civil Society Members Prof. Hameeda Nayeem, Dr. Javaid Iqbal, Wehshi Syed, Mushtaq Barq, Mushtaq-ul-Haq Ahmad Sikandar, Bilal Bashir Bhat, Yasin Attayi and Rameez Makdoomi.
The speakers hailed the contribution of Anjum Zamrooda Habib in scripting the resistance history of Kashmir and hoped the process will continue.



The others dignitaries who were present on the occasion include, Columnist Z G Muhammad, Human Rights Defender Khurram Pervaiz, Zahir-u-Din, Journalist Farzana Mumtaz, Dr Mudasir Nazar, Adnan Ahmad Principal Angels Home School, Prof. Ishaq Nehvi, Manzoor Sultan, Director Phonix Institute of Learning and Columnist Muhammad Umar.
On the occasion momentous were distributed among young journalists and writers including Rao Farman Ali, Rameez Makhdoomi and Bilal Bashir Bhat.
Production Manager Kitabn Mahal Mr. Sheikh Waseem was also felicitated by the author of book.
At the end of the ceremony, Anjum Zamrooda Habib thanked the audience for gracing the occasion and pledged to carry the mission of scripting history.
Pertinently, Zamrooda Habib's earlier book 'Prison No 100' has been published in three languages and was bestselling book in the year it was released.